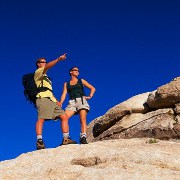 Photo: Getty Images
I realize that most of us have pretty high standards by any measure, and we strive to meet those standards every day. Whether it is the way we do the laundry or mow the lawn or do our job we want to do things the best way we can.
But…
It's possible to go overboard in achieving that high quality. There is high quality and there is very high quality. After that, there is very, very high quality, and so on. Where does it stop? Therein lies the stress, constantly striving to be the very best you possibly can when, in reality, you don't have to put in as much effort as you do. Only you can decide, and that is the dilemma: how good is "good enough?"
The trick is to balance the amount of work with the result of that work; remember that the Law of Diminishing Returns applies here. In this case, that means that each unit of time spent on something will contribute less benefit than the previous unit of time. For example, you may spend one day writing a brochure and another day changing the fonts, the spacing, and a hundred other cosmetic factors in order to make it "just right." Did the second day on the project make it twice as good? Probably not. Did it need cosmetic changes? Of course; but did it need a whole day's worth? Did the last four hours really make a difference? Decide when it looks good (rather than perfect) and then call it "finished." It doesn't have to be perfect to be acceptable, even according to your high standards.
The question, though, is how do you suppress your tendency to want perfection? One thing you can do is realize what it is costing you; not just in dollars but in stress, time, and productivity. When you are spending more time than necessary on something, you are putting yourself under tremendous stress. You have given yourself an impossible task, and how stressful is that?
Also, the time you are spending trying to make it "perfect" is time that you are not spending on something else. That means that you are wasting productive time.
Another thing you can do is examine the expectations you have set for yourself. Are they reasonable? Are you trying to climb Mt. Everest before you've learned how to zip up your backpack? And how do those expectations compare to what others expect? After all, if your boss or husband or children think it's perfect, then it is! There comes a point when you are spinning your wheels and accomplishing nothing at all, trying to meet unreasonable standards that, in the end, don't really make much difference.
The key thing to ask yourself is this: "Will the extra effort I'm putting into this have a corresponding benefit?" If not, it's time to examine what you are doing and then settle for what you've already got.
You, and only you, will know the difference.
Dealing with cancer, some other major illness, or life in general? Our free daily tips will help you cope: sign-up at http://www.CopingQuickies.com For even more stress management tips and techniques visit http://www.CopingUniversity.com where world-class experts share their wisdom to help you cope. Hours of FREE online audio programs will help reduce your stress and restore your hope. Topics are unique, unusual, fascinating, and just plain fun! Learn how to find humor when nothing seems funny, how to love the way you look no matter what, and how to be romantic even during a serious illness. Our online content is always free, so visit today! And, check out our YouTube channel for entertaining coping ideas: http://www.YouTube.com/copinguniversity
Edited by Alison Stanton