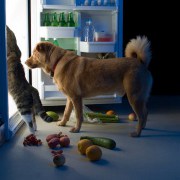 Photo: Getty Images
Lily is a cat. A very independent cat. Lily just loves to be outside and chase the birds, squirrels, mice, lizards ... you name it. In fact, she has brought more than a few into the house to "share" with us. (What a nice kitty ...)
Unfortunately for Lily, we live in the mountains in the middle of a forest and cat dangers abound: coyotes, hawks, ravens, etc. In fact, it would be downright irresponsible of us to let Lily out of the house unsupervised.
Unfortunately for us, Lily went through a period where she urinated in the house. As it turned out, she wanted to be outside where, in her opinion, cats are supposed to be. (When we saw her drinking water we used to joke that she wasn't really "drinking", she was actually "reloading" ...)
We compromised with her and put a one-way cat door in the wall between the house and the garage. With that in place, she could only go out if we let her out but she could come back in any time she wanted.
One day, the little lever that controls the one-way door was accidentally moved, and it had become a two-way door; she could come and go as she pleased. I saw her out on the driveway and knew she shouldn't have been there, so I discovered the problem and re-set the lever.
The rest of the day and for several days after this event I could hear an almost constant tapping as she kept hitting the door with her nose to try to open it again from the inside as she had done on the day that it had been improperly set.
Yes, folks, there is a lesson here; two of them, in fact, and they both have to do with attitude.
First of all, Lily must have a pretty positive attitude to try to get out through the one-way door when she had never been able to before. How many times had she tried in the past, only to find it locked? On that one day, against all odds, she gave it a shot anyway and lo and behold, it opened! Her persistence paid off.
After it was locked again, she continued trying to get out. I'm sure that she was thinking, "One of these days they're going to goof again and I'll be able to go out!" Over and over she hit that door with her nose in the hopes that it would open. Over and over, she tried without success. But one of these days, she just might get lucky. When she does, her persistence will have paid off again.
How many times have you given up on something because the answer was always "No" or the phone was busy or someone didn't return a call or ... ?? Keep trying. You just might discover that it would only take one more try to get what you want and relieve the stress and frustration you're feeling.
Calvin Coolidge said, "Nothing in the world can take the place of persistence. Talent will not; nothing is more common than unsuccessful men with talent. Genius will not; unrewarded genius is almost a proverb. Education will not; the world is full of educated derelicts. Persistence and determination alone are omnipotent."
The next time you get discouraged, remember Lily and then tap that door with your nose just one more time. If our cat can do it, so can you.
Edited by Jody Smith
Dealing with cancer, some other major illness, or life in general? Our free daily tips will help you cope: sign-up at http://www.CopingQuickies.com For even more stress management tips and techniques visit http://www.CopingUniversity.com where world-class experts share their wisdom to help you cope. Hours of FREE online audio programs will help reduce your stress and restore your hope. Topics are unique, unusual, fascinating, and just plain fun! Learn how to find humor when nothing seems funny, how to love the way you look no matter what, and how to be romantic even during a serious illness. Our online content is always free, so visit today! And, check out our YouTube channel for entertaining coping ideas: http://www.YouTube.com/copinguniversity
Tags: