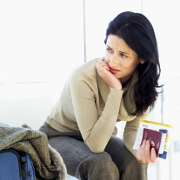 Photo: Getty Images
If you travel much then you may be aware of Chicago's O'Hare airport. It is one of the busiest airports in the world because of its central location. It's huge and a main hub of several airlines.
It is also in one of the most weather-prone areas the country, which presents an interesting scenario when weather disrupts operations. Since it is a major hub, bad weather affects flights all over the country and it is not uncommon for many folks to get stuck in airports from Los Angeles to New York and even internationally.
I was in Chicago recently for a few days and when I went to the airport for my 5 p.m. flight home I was stuck in a line that wasn't moving. At all. Nothing. Nada. Zip. I could see the agents working feverishly on their computers but the customers they were helping never seemed to get on their way! It was very frustrating, and I was getting very annoyed. My busy speaking schedule requires a lot of travel and I consider myself a seasoned flier, but I had never seen anything quite like this.
An agent walked by and I asked her, "Why isn't the line moving? Are the computers down?" (I was nice about it. One thing I've learned is that when I am frustrated most others are frustrated as well and I get much more attention when I'm a friendly face in a sea of angry faces.)
She said, "No, incoming flights are delayed because of the storms we are having and many people are missing their connections. The agents are trying to re-route them but since the aircraft can't get in, there aren't many options."
Oh. I'm going to miss my connection in Houston and I'm probably going to have to spend another night here. That changes everything ... suddenly my situation went from maddening to an adventure! When I finally got to the counter I was in a great mood because I like adventures, and the agent responded to my cheerfulness and joking around.
Fortunately I was on my way home instead of traveling TO a speaking engagement -- missing a connection then could mean that I miss the engagement and that's definitely not a good thing. On the other hand, when it happens there isn't a darned thing I can do about it anyway, so I CHOOSE to think of it as an adventure.
The point: If you are aggravated and stressed because something is happening that you don't fully understand, try to find out what it is. Even if there is nothing you can do to change it, you may have the opportunity to change your reaction to it, and that will be less stressful for you.
Edited by Jody Smith
Dealing with cancer, some other major illness, or life in general? Our free daily tips will help you cope: sign-up at http://www.CopingQuickies.com For even more stress management tips and techniques visit http://www.CopingUniversity.com where world-class experts share their wisdom to help you cope. Hours of FREE online audio programs will help reduce your stress and restore your hope. Topics are unique, unusual, fascinating, and just plain fun! Learn how to find humor when nothing seems funny, how to love the way you look no matter what, and how to be romantic even during a serious illness. Our online content is always free, so visit today! And, check out our YouTube channel for entertaining coping ideas: http://www.YouTube.com/copinguniversity