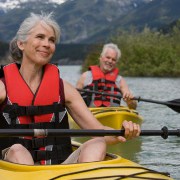 Photo: Getty Images
Aging is part of daily living, yet many men and women from their fifties to seventies are fearful of their approaching maturity. Many choose to ignore the issue; others cope by plunging into hyper-activity, filling every minute of every day, to prove that they are still part of the young set. Some just give up, listlessly going through the days, fearing the unknown future. Aging doesn't mean the good life is over. The key to enjoying maturity is to plan for it; to stay active, positive, keep learning, and pursuing projects we never had time for.
I asked a number of mature men and women "What is your greatest fear of aging"? Three issues were mentioned most often:
Fear One: "My savings won't last." Economic worries topped the list, probably influenced by the current horrific downturn in the economy that affected many mature citizens especially hard. "Suddenly we see our nest egg shrink or disappear, and we worry, who will take care of us? What if we get sick?"
Action: Plan early! Start planning for the future as early as you can and adjust your goals if the unexpected happens. But focusing on your financial health is not enough. What are you doing now to stay healthy so you can avoid possible illness later in life? Planning starts with a clear understanding of what our assets are, and what it costs to maintain our lifestyle. Many people require the help of a retirement expert to help them plan. In some cases a trusted friend or family member with appropriate expertise can help. It's up to you, however, to give them good information. Hoping things will work out is a risk no one can afford.
Fear Two: "I'm becoming more and more isolated as friends and family members pass away." Or, "My kids moved far away. Many of my friends are gone. I often feel so alone. How will I be able to manage if something happens to me?"
Action: Relying solely on the friends we've known for years is risky. No matter what your age, forming new relationships with people younger or older is important. Make friends by mentoring others; share your skills or expertise. Become a joiner! From cooking clubs and walking groups to book circles and history buffs--join any group representing your interests and offering contact with others. Make an effort building a deep friendship with at least one person in your life (maybe a lady or man friend), so when the chips are down you know you can count on each other no matter what.
Fear Three: "It's hard enough to face losing my looks, my energy or physical functions, but I'm also terrified of losing my independence and becoming a burden."
Solution: You can do something to protect your health, your energy and your vital functions from this moment on. Preserving these precious assets has a lot, but not all, to do with your past and current lifestyle. Yes, our health deteriorates somewhat as we age. But if we follow a healthy diet, exercise daily, and make an effort to be active, stay in touch, and keep challenging our minds, the later chapters of our lives can be exciting. Even at the age of 100, new neural connections form in the brain when it is challenged. Being happy means accepting our age. Our value and beauty comes with a lifetime of learning and being. Our humanity counts, not our wrinkles. When we enjoy who we are, others will want to enjoy our specialness.
Edited by Alison Stanton