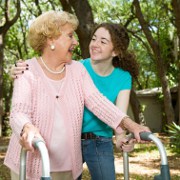 Photo: Getty Images
For no apparent reason, my wife started falling. And, when she fell, she couldn't get up on her own. At first we simply attributed it to her general weakness, caused by ongoing oral chemotherapy.
After a few such falls, we took her to the emergency room where they performed several tests. They found no obvious cause, having ruled out a stroke. Since she was so unsteady, a physical therapist arrived to show her how to use a walker. As they worked together, he determined that she was too unsteady to use the walker by herself and that she shouldn't use it without someone close by to assist.
So here we were, in the emergency room for the upteenth time during her cancer journey, discussing her new life and the restrictions that it would impose. We talked about all of her falls, and we admired her new bumps and bruises including three really nasty rug burns.
Then she said, "At least I didn't break a nail!"
And that, ladies and gentlemen, is what you call looking on the bright side. The next time you are in the middle of a crisis, I hope that you can remember that immortal battle cry, which is sure to go down in history right along side "Give me liberty or give me death," or "Remember the Alamo!"
At least she didn't break a nail ... if you were in that position could you have come up with that one??
Dealing with cancer, some other major illness, or life in general? Our free daily tips will help you cope: sign-up at http://www.CopingQuickies.com For even more stress management tips and techniques visit http://www.CopingUniversity.com where world-class experts share their wisdom to help you cope.
Hours of FREE online audio programs will help reduce your stress and restore your hope. Topics are unique, unusual, fascinating, and just plain fun! Learn how to find humor when nothing seems funny, how to love the way you look no matter what, and how to be romantic even during a serious illness.
Our online content is always free, so visit today! And, check out our YouTube channel for entertaining coping ideas: http://www.YouTube.com/copinguniversity
Edited by Jody Smith