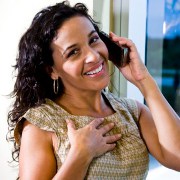 Photo: Getty Images
Last night we had dinner with a friend who was telling us about the birthday gift she bought for her hairdresser, Gretchen's, infant son. She had it all wrapped and a card all ready to go but had forgotten the boy's name.
She asked us if we knew it, but we didn't. I suggested, "Why don't you call the salon and ask someone?"
She said, "I was going to do that, but Gretchen often answers the phone and I don't want her to know that I forgot her son's name."
Uh, okay ...
I am a firm believer in the importance of asking. You can eliminate a lot of frustration and anxiety by simply asking for the information you need.
Our friend was willing to ask, I'll give her credit for that, but sometimes you have to get creative to get what you need.
If she calls the salon and someone else answers the phone, it's a done deal. She can simply ask the question. But what could she do if Gretchen herself answered the phone?
1. She could fess up and simply say, "I'm so embarrassed but I don't remember your son's name."
2. She could ask for Pam, one of the other stylists, and then ask Pam about the boy's name. (She could disguise her voice if she thinks Gretchen would recognize it.)
3. She could simply hang up and try again later in the hopes that Gretchen doesn't answer the next time.
4. She could mumble something about how she dialed the wrong number and try again later.
5. She could say, "Oh, hi Gretchen! I meant to dial someone else, I guess I have too much on my mind!" and then hang up to try again later.
This isn't rocket science ... it's okay to lie in an innocent and harmless situation like this.
It's important to ask for the information you need; sometimes, though, you have to get creative about it!
Edited by Jody Smith
Dealing with cancer, some other major illness, or life in general? Our free daily tips will help you cope: sign-up at http://www.CopingQuickies.com For even more stress management tips and techniques visit http://www.CopingUniversity.com where world-class experts share their wisdom to help you cope.
Hours of FREE online audio programs will help reduce your stress and restore your hope. Topics are unique, unusual, fascinating, and just plain fun! Learn how to find humor when nothing seems funny, how to love the way you look no matter what, and how to be romantic even during a serious illness. Our online content is always free, so visit today! And, check out our YouTube channel for entertaining coping ideas: http://www.YouTube.com/copinguniversity