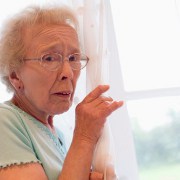 According to AARP, more than $2.9 billion is stolen and financially siphoned from the elderly every year. Also, more than 60 percent of all elder abuse is financial.
Elder financial abuse can be devastating, and it can wipe out a senior's bank accounts and financial assets. Also, many cases of financial elder abuse go unreported due to embarrassment.
According to a recent Metlife Mature Market Institute study, ʺElderly women are more than twice as likely to be victims of financial abuse than men.ʺ Also, most victims of financial elder abuse live alone, and are between 80 and 89 years of age.
The majority of the perpetrators of elderly financial abuse are men who are initial strangers to the elderly. However, neighbors, friends and even family also commit the financial abuse.
Here are some tips to prevent financial elder abuse:
• Eliminate unwanted calls and solicitations by telemarketers
• Add the senior's phone number to the National Do Not Call Registry at 1.888.382.1222 or https://www.donotcall.gov/default.aspx
• Screen all calls with an answering machine and Caller ID
• Hang up on any unsolicited calls
• Monitor important financial matters. Review bank statements and cancelled checks.
• Organize financial legal documents. Make sure a will and durable power of attorney documents are in order. These two documents assure the financial distribution and wishes of the senior's estate by a trusted loved one. Recently, the state of Illinois passed a new law regarding power of attorney and financial elder abuse.
According to the WMAQ-TV in Chicago, a new elder abuse law took effect July 1, 2011. This law shields the elderly against the abuse of power of attorney. The NBC affiliate stated, ʺNew power of attorney agents must now keep financial records and are subject to having their agency revoked by the court or pay fines should they abuse their responsibility to the principal.ʺ
If you believe your loved one has been a victim of financial abuse, there are resources available to help (see list on page 2). If your loved one is in immediate danger, contact the local police department immediately. Also, contact the bank if money has been removed from his or her account. Finally, contact Adult Protective Services in your area.
Here are some other resources if you feel your loved one has been a victim of financial elder abuse:
• The National Consumers League's Fraud Center http://www.fraud.org/elderfraud/index.htm
This website delivers information on current telemarketing scams. The tips are in English and Spanish.
• The National Center on Elder Abuse (NCEA) 1.800.677.1116 or
http://www.ncea.aoa.gov/Stop_Abuse/Get_Help/State/index.aspx
At the NCEA website, you can search by state to register an elder abuse complaint.
• The National Committee for the Prevention of Elder Abuse (NCPEA) http://www.preventelderabuse.org/elderabuse/help/help1.html
This site offers step-by-step information on what to do if you know someone who is a victim of elder abuse.
• The National Center for the Victims of Crime. 1.202.467.8700 or www.ncvc.org
This website delivers a plethora of resources for victims of various crimes. They also offer various hotlines for victims of crime.
Sources:
http://www.metlife.com/mmi/research/elder-financial-abuse.html#related content
http://www.metlife.com/assets/cao/mmi/publications/studies/2011/Highlights/mmi-elder-financial-abuse-highlights.pdf
http://www.metlife.com/assets/cao/mmi/publications/essentials/mmi-preventing-elder-abuse-essentials.pdf
http://www.preventelderabuse.org/elderabuse/fin_abuse.html
http://www.metlife.com/assets/cao/mmi/publications/studies/2011/Highlights/mmi-elder-financial-abuse-highlights.pdf
http://www.sacbee.com/2011/07/01/3741365/critical-consumer-protection-law.html
http://www.nbcchicago.com/news/business/elderly-power-attorney--124890799.html#ixzz1R3x9jGJV
Reviewed July 4, 2011
by Michele Blacksberg R.N.
Edited by Kate Kunkel