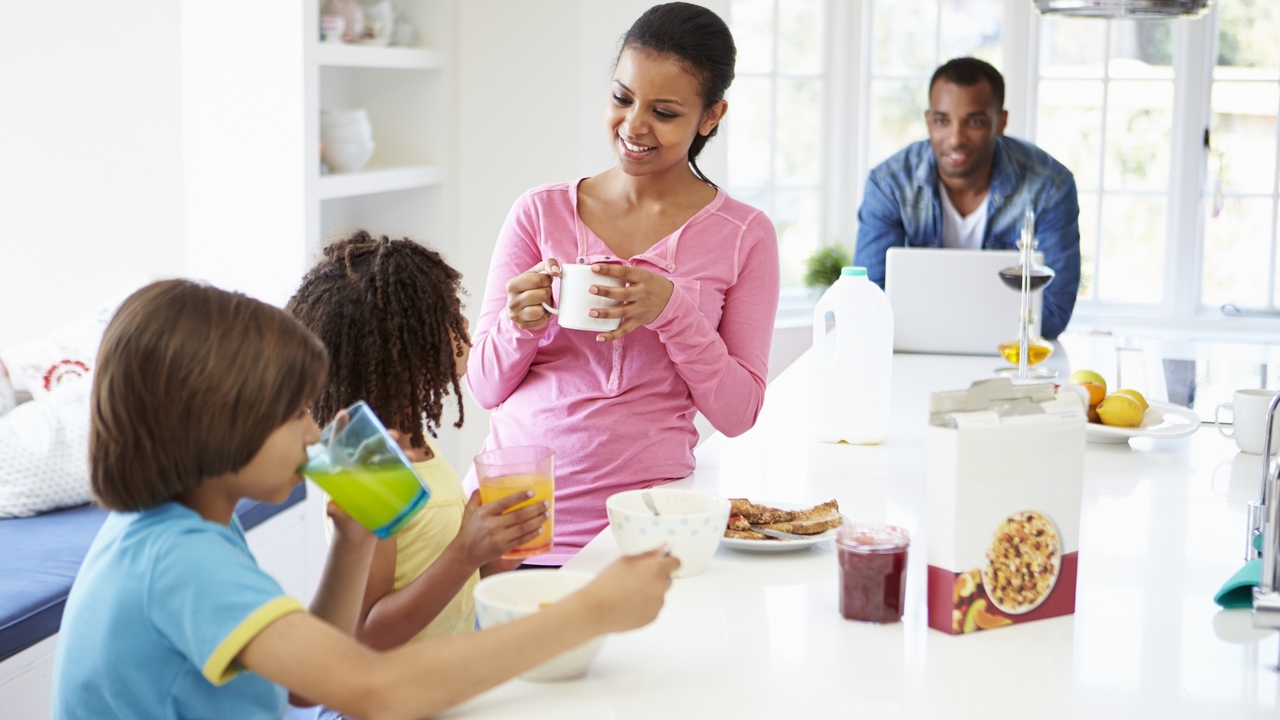 MonkeyBusiness Images/PhotoSpin
Spring is in the air, and it is time to sort, toss and organize. DeClutter Coach Deb, host of the television show "Organization Motivation" says, "Clutter ensues when we do not make decisions."
DeClutter Coach Deb is Deborah J. Cabral. She says it is great to go out and buy new things but for any new item that comes into the home, something must leave. She takes us room by room to see how we can cleverly be clutter-free!
The Kitchen
Let's start in the kitchen which Cabral likes to call the Family Hub. She utilizes a command central for the family with a color-coded dry erase board or calendar where every family has their own color.
Next to that she also has a bulletin board which she sections off with color-coded decorative ribbon and clips for each family member. This can be used to organize paper clutter for everything from school schedules to birthday party invitations.
It is here where she creates zones.
For example, a lunch zone allows for packing the kids' lunches for school. It also makes it easier for them to help. In this zone you want to have a bin or drawer for such items as lunch bags, plastic spoons, and non-perishable snacks.
You can also set aside an area in your fridge or pantry for kids' perishable items and after-school snacks that is easily accessible for them.
Cabral suggests separating the snacks into baskets. Some might contain snacks that are a little more on the healthy side, and others hold snacks that are treats or eaten less often.
Cabral sets up a launch zone in the kitchen or adjacent mudroom with hooks for mom and dad to hang their keys, and lower level hooks for the kids to hang their coats and bags. She will sometimes personalize the hooks with letters or a school picture.
Cabral says the launch zone is important because "kids want structure and organization and it really helps parents who are often overtired."
Living Areas/Kids' Rooms
For your living room, family room, or if you're lucky enough to have a playroom, Cabral suggests using double-purpose furniture, such as storage ottomans and benches to minimize toy clutter.
Another trick is to use a dresser drawer as a side table for all of the family's electronics, games, etc. Storing in bins on wheels is another way to keep items out of sight under furniture when not being used.
For the kids' rooms or playroom you can also put a picture of the type of toys that go in a particular bin and place it on the outside.
Save the kids' favorite ten special pieces of artwork from that year and frame them. If they really want to hold on to more, take a picture of them holding it.
Cabral says, "If you save everything nothing will have value."
Bedroom Closets
To get to the root of closet clutter, Cabral says you must take everything out to organize. Sort each item into categories such as keep, donate, consign, toss or giveaway.
If you are going to build or install a closet organizing system, she suggests that you assess what you may need such as an extra rod, more shelves, hangers that allow you to fit multiple items on them, etc.
Cabral also likes to organize clothes by type. For example, shirts are long-sleeve, three-quarter length, and short-sleeve. Then she organizes by solid and prints. From there she will organize the shirts from light to dark.
Cabral says, "Keeping things together from light to dark is great for those who are color blind." She has also helped a client who is blind in organizing her closet by texture, using her sense of touch.
For shoes, Cabral suggests investing in specific shoe bins designed for high heels and boots to keep organized.
The Bathroom
In the bathroom, Cabral advises that you limit your products to just what you are using right now. Keep the minimum on the counter tops, utilizing decorative glass jars for things like cotton balls and pretty labeled baskets for other items.
Another trick she likes to use is a magnetic hanging station inside the medicine cabinet for manicure scissors, tweezers, etc. Don't forget about the space inside the vanity door — hang a rack over it to store additional items.
Cabral says these little tips "may take minutes, but will save you hours."
Craft Room/Sewing Room
For many, crafting is not just a hobby, but thanks to Etsy and Pinterest, also a business. If you craft or sew then you know how much space your crafting tools, materials, etc., can take up.
For this room I consulted Crafting Occasions co-owner Mona Caruso.
Caruso not only crafts at home, but on the go. She suggests seeking out a craft store for their specifically designed craft supply cases.
Utilizing her tips can help you set-up a creative section for each crafting project.
"Having a mobile crafting business requires a lot of planning and organization. It is critical that we spend minimal time setting up and tearing down for our events," according to Caruso.
"The most helpful tools that allow us to do both in twenty minutes or less have been the organization of all our necessary tools in plastic bins. We have specific bins for supplies, paints and embellishments for each scheduled craft. This technique has resulted in time reductions for set up, quick inventory, and reduction of clutter."
Her business partner Tomi Kay Jones says, "Crafting is so much more fun when you know right where everything is. I love having my stand up desk where I can leave my unfinished projects and come back and pick up where I left off."
The Home Office
In the home office Cabral urges you to keep paper to a minimum. She suggests that you only file what you need. "80-percent of what we file we never look at again."
Cabral says the key to an organized office is to remember that, "it is about retrieving not storing."
Cabral says you need a clear desktop in order to work and create. You can keep your desktop clear and use space-saving multipurpose office systems with tape dispensers, bins, etc.
Cabral says you can implement many of these suggestions a little at a time. You do not need to take a week off from work to get organized.
"Some action is better than no action and at the end of a couple of weeks you will make a huge difference which results in feeling less stressed."
Sources:
Deb Cabral Interview 26 March, 2015.
http://www.decluttercoachdeb.com
Mona Caruso and Tomi Kay Jones Interview 27 March, 2015
http://www.craftingoccasions.com
Joanne Sgro-Killworth is a Television Fitness Expert, Certified Personal Trainer and Sport Nutritionist and Publicist. She is Certified in Pilates, Pre-natal/Post-Partum, Yoga and Senior Fitness. She specializes in Weight Loss, Post-Rehab and Post Cancer Training.
Joanne's fitness plans, recipes and lifestyle advice are available globally on her website http://www.happiwoman.com/ She resides in the Phoenix, AZ area with her husband and children, where she runs her fitness and publicity business, JSK PR, http://www.jskpr.com/
Reviewed March 31, 2015
by Michele Blacksberg RN
Edited by Jody Smith