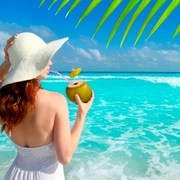 iStockphoto/Thinkstock
Coconut water has been developing a reputation as a natural sports drink.
Drinking it may make you feel like you're on the cutting edge of coolness, not to mention the newest of the new where health is concerned.
There is something exotic about knowing your drink came out of a coconut. Though you have a bottle or can in your hand, you're picturing yourself holding a coconut with a straw in it, sipping through the straw.
It has a flavor that defies description, tasting like no other drink you may have tried. And there may be something reassuring about knowing this drink is natural, with no added unpronounceable ingredients.
But is it a sports drink?
Depending on who you ask, you will get everything from an enthusiastic "Absolutely!" to an unconvinced "No way." This of course is not unusual when any natural product is discussed.
Still the challenge is to determine what the truth is, in this case, about coconut water.
ScienceDaily.com reported that the American Chemical Society confirmed that coconut water is a sports drink from Mother Nature herself. However this statement needs to be balanced with other available observations.
Chhandashri Bhattacharya, PhD, from Indiana University Southeast in New Albany, said that coconut water does not rival sports drinks like Gatorade for the serious athlete.
Bhattacharya said that coconut water has five times the potassium found in Powerade or Gatorade.
Because the usual American diet does not contain an abundance of potassium and tends to have too much sodium, coconut water could be a good addition to the diets of non-athletic Americans.
A team of researchers including Bhattacharya found that coconut water contained far more potassium and less sodium than Gatorade and Powerade.
The drinks had similar amounts of magnesium and carbohydrates. While lower sodium is good for those who aren't involved in strenuous sports, it is not such a good thing for athletes who sweat a lot.
On the other hand, WebMD.com reported that Dr. Alan Greene recommended coconut water for people who have been exercising for more than an hour, or who have been exercising strenuously. Greene preferred coconut water over sports drinks.
Dietitian Ashley Koff also favored coconut water over plain water, saying that water by itself will not hydrate adequately. Electrolytes like potassium and sodium must be replenished, and for that coconut water was Koff's recommendation.
Katherine Zeratsky, R.D., said that while coconut water has the same or less carbohydrates and calories as compared to many juices, it also contains more calcium, magnesium, potassium and sodium.
Zeratsky said that if you are sweating during strenuous exercise for more than an hour, coconut water does not provide enough protein or carbohydrates for your muscles.
As a casual beverage, however, Zeratsky said that coconut water might be a good thing. Or maybe not. She said you'll need to decide whether you want the extra 45 - 60 calories in 8 ounces of coconut water.
As reported on CBC.ca, the small amount of research that has been done on the effectiveness of coconut water has concluded that some coconut water is as effective as sports drinks after strenuous exercise.
Registered dietitian Mary Bamford of Toronto, Ontario, Canada said that you need to know what's in your drink.
Some coconut water may have added sugar. Some drinks have as little as 10 percent of coconut water. And some coconut water has too little carbohydrates and sodium, and too much potassium.
Dr. Todd Cooperman of Consumerlab.com said that while coconut water is safe to drink, it may not be the best way to rehydrate. He said that water is probably just as effective.
Sources:
Coconut Water Is an Excellent Sports Drink -- For Light Exercise. Sciencedaily.com. Retrieved August 20, 2012.
http://www.sciencedaily.com/releases/2012/08/120820143902.htm
What are heat injuries? Webmd.com. Retrieved August 20, 2012.
http://answers.webmd.com/answers/1190048/what-are-heat-injuries
What's behind the buzz about coconut water? Mayoclinic.com. Retrieved August 20, 2012.
http://www.mayoclinic.com/health/coconut-water/MY02023
Coconut water for athletes has few solid benefits. CBC.ca. Retrieved August 20, 2012.
http://www.cbc.ca/news/health/story/2012/07/11/coconut-water.html
Visit Jody's website and blog at http://www.ncubator.ca and http://ncubator.ca/blogger
Reviewed August 21, 2012
by Michele Blacksberg RN