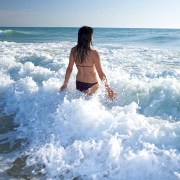 Photo: Getty Images
Inflammation causes pain and illness. Chronic inflammation can lead to diseases like rheumatoid arthritis and eczema. Chronic inflammation is also associated with Alzheimer's disease, cancer, diabetes and heart disease.
If you're living with chronic pain you may worry that exercising will make things worse. But when done properly, the reverse is true. Exercise can reduce chronic inflammation.
It's important to exercise in moderation. Overdoing it can actually increase inflammation.
Increasing your heart rate on a regular basis can curb an immune overreaction and decrease inflammation. Consistency is the key, so pick activities that you enjoy.
Aerobic exercise includes activities like running, walking and elliptical training. Consider adding resistance training as well.
As fitness levels and physical activity increase, C-reactive protein (CRP) levels decrease and so does inflammation. The National Center for Biotechnology Information pointed out that CRP is a substance associated with inflammation and cardiovascular damage.
According to a January 11, 2010 article on Disabledworld.com, a study from Ohio State University indicated that women who practice yoga have less cytokine interleukin-6 (IL-6) in their blood. This is significant since IL-6 is part of the body's inflammatory response, and is linked with arthritis, diabetes, heart disease, stroke and diseases related to aging.
The women who regularly did yoga also experienced lower inflammatory response to stress than the other women. Researchers speculated that yoga may make people less vulnerable to stress and its effects.
The report was published in the journal Psychosomatic Medicine.
According to Arthritis.org, regular exercise can reduce the joint pain and stiffness of arthritis. It can strengthen muscle around joints, encouraging greater flexibility and increasing endurance levels. Exercise provides the arthritis sufferer with the same benefits that others enjoy -- increased energy, better sleep, weight control and less depression.
If you have severe pain, start slow, and start small. Don't be discouraged by this modest debut; a slow and small advent increases your chances of expanding your efforts later.
The U.S. Department of Health and Human Services recommends 2.5 hours of moderate aerobic activity each week, or 1.25 hours of vigorous aerobic physical activity a week. Moderate aerobic activity might be gardening or walking. Vigorous aerobic activity might be jogging or aerobic dancing.
The buoyancy of water activities can ease pressure on your body and build greater strength and flexibility. Water walking offers 12 times the resistance offered by air so less effort provides more of a workout.
Before embarking on a new exercise program, consult your doctor. Also consider consulting a physical therapist who can teach you proper techniques. Or see an occupational therapist who can help you protect your joints, and can give you access to splints or other devices.
Resources:
Exercise to Reduce Chronic Inflammation
http://www.ehow.com/way_5636895_exercise-reduce-chronic-inflammation.html
Impact of Physical Activity, Cardiorespiratory Fitness, and Exercise Training on Markers of Inflammation.
http://www.ncbi.nlm.nih.gov/pubmed/21427600
Yoga Reduces Inflammation Due to Aging and Stress
http://www.disabled-world.com/fitness/exercise/yoga/yoga-inflammation-stress.php
Introduction to Exercise
http://www.arthritis.org/exercise-intro.php
Reviewed July 6, 2011
by Michele Blacksberg R.N.
Edited by Alison Stanton
Visit Jody's website and blog at http://www.ncubator.ca and http://ncubator.ca/blogger