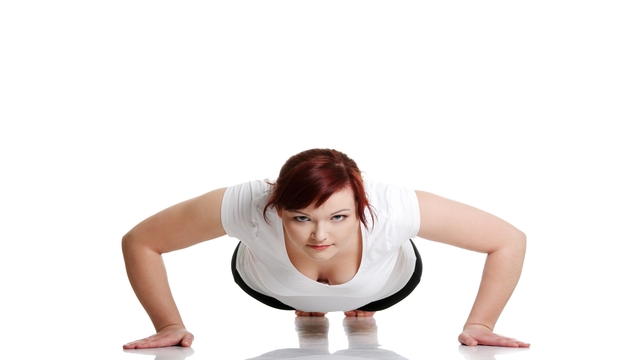 Piotr Marcinski/PhotoSpin
For the past few years I've noticed, at least where I live, a growing number of technically overweight people who enjoy great physical fitness. These people eat healthy foods, indulging at times, and work out or play sports regularly. They are less interested in their dress size and more in their level of physical fitness and how they feel, both mentally and physically.
Steven Blair, director of research at the Cooper Institute for Aerobics Research in Dallas, conducted long term research of a very large population of middle-aged people to observe their levels of fitness versus their weight.
This group of 25,000 men and 8,000 women were studied over a period of 10 years and had their fitness tested by standard stress testing. The outcome was that the obese fit people had half the risk of death than the thin people who didn't exercise or were not physically fit.
USA Today reported that Blair said, "the findings were the same whether obesity was measured by a body mass index (derived by multiplying a person's weight in pounds by 703 and dividing that result by height in inches squared), or by the percentage of body fat relative to muscle and bone, which meant the results were not due to heavy people simply being well muscled". http://usatoday30.usatoday.com/news/healthscience/health/2001-07-17-fat-...
Blair said that this study is great news for heavier people who are still physically fit. He believed that it's good for their self-esteem too. He recommended a thirty-minute brisk walk every day to maintain fitness, as well as active weekend activities.
He stated that fitness is directly linked to avoiding heart disease, diabetes and other diseases even if a person is obese. But Blair didn't discount losing weight in addition to maintaining fitness, for optimal health and self-esteem. Half of his obese participant were unfit.
This study on obesity and fitness isn't the first. In our EmpowHER article "Fat and Fit? Study Says Yes!", a study of 43,265 people also found this to be entirely possible. This was an Aerobics Center Longitudinal Study which was led by Dr. Francisco Ortega of the University of Granada in Spain.
Like Blair, Ortega believed that physical fitness is a very important component of avoiding diseases, even if a person is not at their optimal weight. He said, "Physicians could assess fitness, fatness and metabolic markers to do a better estimation of the risk of cardiovascular disease and cancer of obese patients."
The bottom line of these studies suggests that while extra weight isn't particularly good for one's health, a fit, overweight body can prevent many illnesses that can attack the unfit obese or the unfit thin populations. This is positive news for the many Americans who are trying their best to exercise yet struggle with their weight.
The outcome is that their weight may not matter quite as much as they previously thought, as long as they maintain a very frequent exercise routine.
Sources:
USA Today.com. Health and Science. " "Fat and fit beats thin and soft." Web. Retrieved October 6th, 2013.
http://usatoday30.usatoday.com/news/healthscience/health/2001-07-17-fat-...
EmpowHER.com. Wellness. Fitness. "Fat and Fit? Study Says Yes!" Web. Retrieved October 6th, 2013.
https://www.empowher.com/fitness/content/fat-and-fit-study-says-yes
Reviewed October 7, 2013
by Michele Blacksberg RN
Edited by Jody Smith
Tags: