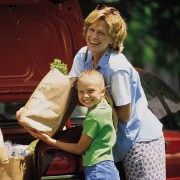 Photo: Getty Images
Good news for all you workaholics, single moms, couch potatoes and all others of us who struggle to find time to hit the gym and get our daily recommended 30 minutes worth of moderate to physical activity most days of the week.
According to a new study published in Medicine & Science in Sports & Exercise, the journal of the American College of Sports Medicine, smaller, less taxing physical tasks throughout the day may actually help improve your health and thus, the more grandiose requirement of hitting the gym may not be as necessary.
The primary aim of the study – entitled "Incidental Physical Activity Is Positively Associated With Cardiorespiratory Fitness" – was to determine whether incidental physical activity (IPA), expressed either as duration or intensity, was associated with cardiorespiratory fitness (CRF)."
Researchers defined IPA as "non-purposeful physical activity accrued through activities of daily living, such as doing housework, climbing stairs or walking around the office."
Basically, any activity that isn't formal exercise but that increases your overall daily activity is considered to be helpful to your heart health. The researchers suggested something as simple as fidgeting at your desk, tapping your foot to the beat of music, walking down the hall to speak to a co-worker instead of sending an email or unloading groceries from your car can all have positive benefits on your health.
Researchers at Queen's University in Kingston, Ontario, recruited a group of healthy but sedentary and overweight adult men and women and equipped them with a device that would record all of the steps they took over the course of a day along with most of their other movements. The volunteers wore accelerometers – the devices that measured their movements — for a minimum of four days and as many as seven.
They found that the men and women averaged about five hours of movement of any kind during a typical day, and most of it was extremely light activity, and certainly not hitting the daily levels recommended by the Centers for Disease Control and Prevention.
Furthermore, those who moved the most, and especially those few who occasionally moved briskly, did have significantly higher cardiorespiratory fitness than those who moved the least. They weren't "exercising" per se, but their smaller bursts of activity throughout the day may help to reduce the risks of health problems.
"Our findings suggest that if you move even a little, that can help your fitness, even if you don't meet the formal exercise guidelines," said Dr. Robert Ross, a professor in the School of Kinesiology and Health Studies at Queen's University and co-author of the study with K. Ashlee McGuire, a doctoral candidate.
The researchers in no way recommended completely replacing more strenuous and taxing physical activity with a walk to the office copier, but there's no harm in increasing one's incidental activity each day, hopefully in addition to a balanced work-out routine.
"There's no reason that I can see not to add more incidental activity," Ross said.
"Take the stairs; park farther away … But formal exercise is still the best thing you can do for your health," he said. "Try to meet the guidelines."
Fidgeting Your Way to Fitness
http://www.queensu.ca/news/articles/fidgeting-your-way-fitness
Incidental Physical Activity is Positively Associated with Cardiorespiratory Fitness
http://journals.lww.com/acsm-msse/Abstract/publishahead/Incidental_Physical_Activity_Is_Positively.98945.aspx
NY Times: Fidgeting Your Way to Fitness
http://well.blogs.nytimes.com/2011/05/11/fidgeting-your-way-to-fitness/
Reviewed June 28, 2011
Edited by Alison Stanton
Bailey Mosier is a freelance journalist living in Winter Park, Florida. She received a Masters of Journalism from Arizona State University, played D-I golf, has been editor of a Scottsdale-based golf magazine and currently contributes to GolfChannel.com. She aims to live an active, healthy lifestyle full of sunshine and smiles.
Tags: