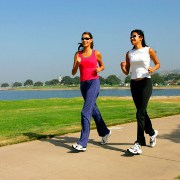 Photo: Getty Images
Want a gift certificate in exchange for putting in long hours at the gym? How about some discount coupons for healthy foods for the reps you do in the weight room? Or what about some free merchandise for running a 5k? Think this is only a pipe dream? Think again! The new mobile app, Nexercise, recently launched and is doing just that.
Nexercise is a free app that rewards users with virtual medals, discounts, and free merchandise for participating in (and logging) any physical activity that lasts more than 15 minutes. The company came up with an easy-to-use mobile gaming format that encourages users to do something -- anything -- active, and make working out fun, engaging, and most importantly habit-forming.
The company website states, "Nexercise provides a gaming experience that is unlike any other. In Nexercise, you get points and rewards for exercising ... plain and simple. It doesn't matter if you walked, worked out at the gym, or ran a 5K – the act of exercising is what is important. For those struggling with consistent exercise, it will provide just the push needed to get motivated and stay motivated. For exercise fanatics, Nexercise offers a fun, cooperative, and competitive, game environment to enhance the activities you already love so much."
To further encourage Americans to get involved, Nexercise announced on September 7, 2011 a marketing partnership with NBA legend Dominique Wilkins. Mr. Wilkins will concentrate his efforts in Georgia, which ranked number 36 out of 50 states in the 2010 edition of the America's Health Rankings. According to the September 7, 2011 Yahoo News article regarding the marketing agreement, Wilkins, a former Atlanta Hawk, will use his significant celebrity in the state to encourage Georgia residents to get active with Nexercise.
He will also help identify local merchant partners who will provide discounts and freebies. Wilkins is quoted in the article as saying his diabetes diagnosis inspired him to join Nexercise and help other diabetics and pre-diabetics fight against the disease.
The Nexercise app is only for iPhones currently, and can be downloaded from iTunes for free. For people interested in working out but lacking the motivation to do so, the temptation of free gifts may be just the ticket.
Source:
Nexercise. Web. 7 September 2011.
http://www.nexercise.com/learn-more
America's Health Rankings. Web. 7 September 2011. http://www.americashealthrankings.org/measure/2010/overall.aspx
Yahoo News. Web. 7 September 2011. http://news.yahoo.com/nba-legend-dominique-wilkins-signs-strategic-marketing-agreement-140215087.html
Edited by Jody Smith