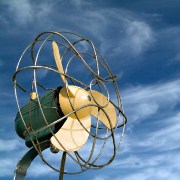 Photo: Getty Images
Heat related illnesses, such as heat exhaustion and dehydration, during sports or leisure/recreational activities send nearly 6,000 people to the emergency room each year. That is according to a study released by the Centers for Disease Control (CDC) and Prevention. The report is based on data from 2001 to 2009 from the National Electronic Injury Surveillance System. The group monitors injuries in hospital emergency rooms.
MSNBC.com is reporting, "males between the ages of 15 and 19 had the highest incidence." For those of you who have sons in this age range, this is of particular importance.
This is the time of year many sports-related camps meet and the heat is still beating down while kids are playing on the fields. Football camps typically start this time of year and it is no coincidence that 35.6 percent of those ER visits were football related.
The CDC maintains, heat related illnesses are preventable. To avoid heat related illnesses here are the organizations recommendations:
• Limit outdoor activity, especially midday, the hottest part of the day.
• Schedule workouts and practices earlier or later in the day to avoid midday heat.
• Pace activity. Start activities slow and pick up the pace gradually.
• Encourage athletes to:
o Drink from two to four cups of water every hour while exercising. Muscle cramping may be an early sign of heat illness.
o Monitor a teammates' conditions.
o Wear a baseball cap and loose, lightweight, light-colored clothing.
The National Academy of Sports Medicine has similar advice focusing on proper fluid consumption; "Proper hydration is especially important during exercise." It is important to have sufficient fluid intake for safety during exercise. The longer and more intensely you exercise, the more water you're going to need.
It is also important, no matter what your age or gender, to pay attention to heat-related illness warnings. The CDC says they include dizziness, nausea, headaches, dehydration and vomiting. If these symptoms are ignored, the consequences can be severe and can lead to death, brain damage and organ failure. The good news is that most patients who are treated for heat-related illnesses are released from the emergency room and end up being just fine.
Online References:
http://www.msnbc.msn.com/id/43929367/ns/health-mens_health/
http://www.cdc.gov/nceh/extremeheat/athletes.html
http://www.acsm.org/AM/Template.cfm?Section=Search&CONTENTID=5507&TEMPLATE=/CM/HTMLDisplay.cfm
Reviewed August 2, 2011
by Michele Blacksberg R.N.
Edited by Shannon Koehle
Joanne Sgro-Killworth is a Television Fitness Expert, Certified Personal Trainer and Sport Nutritionist. She is Certified in Pilates, Pre-natal/Post-Partum, Yoga and Senior Fitness. She specializes in Weight Loss, Post-Rehab and Post Cancer Training. Joanne's fitness plans and recipes are available globally on her website www.fitnessanswer.com. She resides in the Phoenix, AZ area with her husband, where she runs her personal training business, Fitness Answer, LLC.