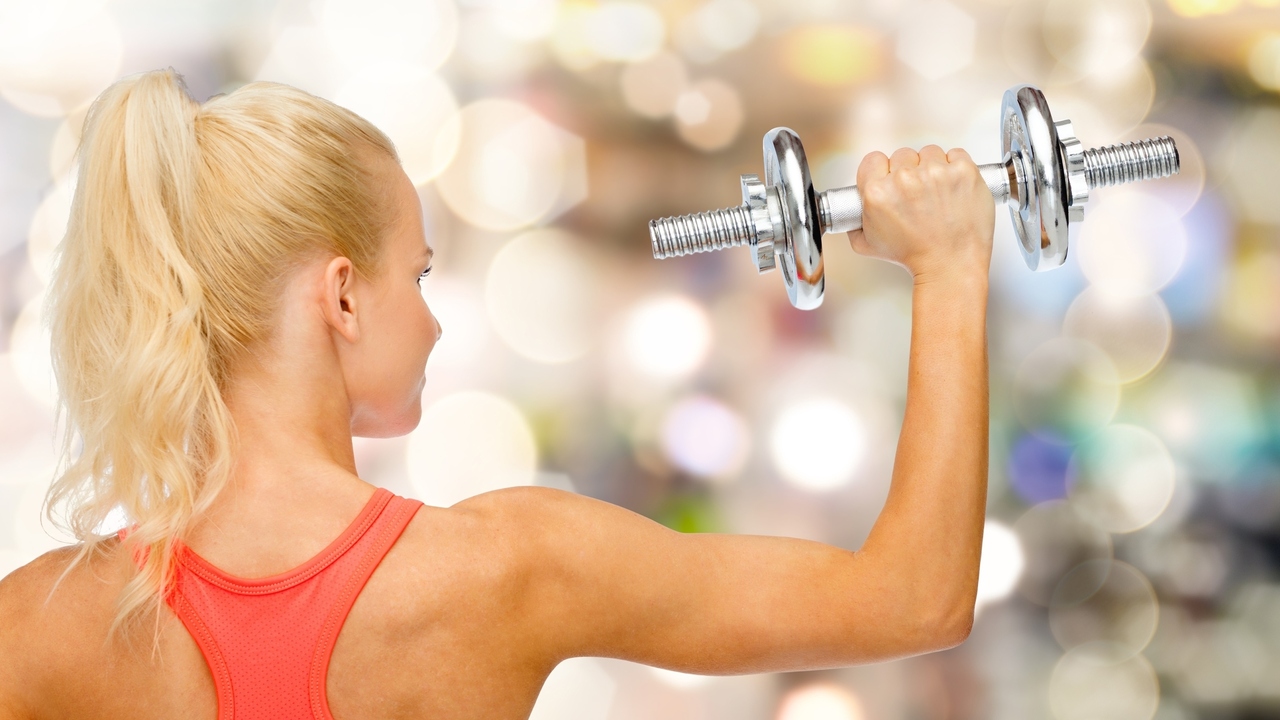 Lev Dolgachov/PhotoSpin
Many active women are familiar with the benefits of cardio. In fact, in most gyms the majority of the women can be found on the cardio machines — running, biking in place, and working the elliptical machines.
Cardio has a lot to offer us.
According to Womenshealthmag.org "adding more cardio to your life will also ratchet up your smarts, boost your productivity, rev your energy, and turn you into an unstoppable success machine."
But, cardio isn't everything.
Even though weights make us stronger and help us lose weight, for some reason many women have reservations about venturing away from the cardio machines and into the strength-training section of the gym.
Some women are afraid of becoming too bulky for avoiding weights. Some don't feel like they have a good enough grasp on how to use them.
Here are a few tips to help women gain long, lean arms and eliminate the dreaded "back fat."
1) Work the right muscles together
Work biceps and triceps and core in one workout, and back and chest together with abs another day, according to Livestrong.com. Train inverse muscles together to keep balance.
2) Try using your own body weight
We've all heard that we need to change up our workouts to get the best results. Now and again, skip the weights and use your own body to gain strength, flexibility, and balance. Greatist.com says that exercises like push-ups, burpees, and planking come with the added benefit of being able to be done anywhere, anytime.
3) Find the right amount of weight for you
Lifting too much weight, or not enough, will affect your results and could cause injury. Exercise physiologist Greg Justice told womenshealthmag.com that the weight used in a workout should be roughly 60-70 percent of the heaviest weight a person can perform one rep of an exercise with.
So if you can do a one-bicep curl with a 15-pound weight, a 10-pound weight should be used for 12-20 reps.
4) Don't go too fast
Bodybuilding.com says that moving through repetitions too quickly ruins your workout: "there is nothing gained by lifting weights fast. Some of the perks of lifting weight in a slow and controlled manner include more total muscle tension … more muscle fiber activation ... and less tissue trauma."
5) Start on the machines
Most gyms have a variety of machines that offer support and guidance in addition to their free weights. "An unconditioned beginner has less integrity in the joints, less stability in the core which supports the entire body during training; and this makes one more apt to be injured when attempting to lift free weight," says Bodybuilding.com.
Sources:
Cardio Workouts. Womenshealthmag.com. Accessed February 27, 2015
http://www.womenshealthmag.com/fitness/cardio-workouts
What Muscles to Work Out Together in a Day. Livestrong.com. Accessed February 27, 2015
http://www.livestrong.com/article/427597-what-muscles-to-work-out-togeth...
Is It Good to Work your Triceps Biceps in One Work Out. Livestrong.com. Accessed February 27, 2015.
http://www.livestrong.com/article/500732-is-it-good-to-work-your-triceps...
Bodyweight Exercises you Can Do Anywhere. greatest.com. Accessed February 27, 2015
http://greatist.com/fitness/50-bodyweight-exercises-you-can-do-anywhere
How Much Weight Should I lift. womenshealthmag.com. Accessed February 27, 2015
http://www.womenshealthmag.com/fitness/how-much-weight-should-i-lift
Beginner Weight Training. bodybuilding.com. Accessed February 27, 2015
http://www.bodybuilding.com/fun/beginner_weight_training.htm
Reviewed March 5, 2015
by Michele Blacksberg RN
Edited by Jody Smith