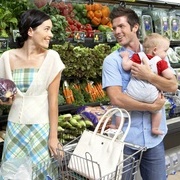 A longtime suspect of harboring germs is now confirmed guilty by a LifeScript.com article: Shopping cart handles are on of the biggest germy messes you can find in public.
According to the article, we come into contact with roughly 60,000 different types of germs yearly. If you are healthy, this shouldn't pose too much of a problem for you, but it could cause a common cold, or diarrhea and vomiting depending on the type of germs you come into contact with.
Shopping carts are known offenders at harboring cold and flu viruses from the cart user, or a toddler in the seat with grimy hands. Or the shopping cart could contain salmonella, campylobacter and E. coli, present on leaky raw meat packages or from diaper-wearing toddlers in that cart seat. People using the carts may touch food packages, then the cart handle, or will sneeze, then grab onto the handle to push on with their shopping.
The best bet is to use the provided anti-bacterial wipes in the store, antibacterial gel, or bring your own to wipe down the handle and cart. People may look at you as a kind of germaphobe, but you'll be happy when you don't get sick.
Do you have a question about preventing sickness? Check out EmpowHER's pages. Sign-up, post a question, share your story, connect with other women in our groups and community, and feel EmpowHERed!
Resource:
LifeScript.com: Avoid Getting Sick: Top 8 Germiest Public Places Exposed
EmpowHER: Tips to Avoid the Flu This Season
Christine Jeffries is a writer/editor for work and at heart, and lives in a home of testosterone with her husband and two sons. Christine is interested in women's health and promoting strong women.
Tags: