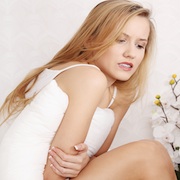 B-D-S/PhotoSpin
Gallstone disease is the most common gastrointestinal disease requiring hospitalization, according to Johns Hopkins University.
Most people have gallstones without even knowing it and without symptoms. Gallstone disease has an estimated $5 billion yearly medical cost, a million new cases diagnosed each year and about 800,000 performed operations.
Gender, age, obesity, diabetes, family history and ethnicity are critical risk factors in development of gallstone disease.
Gallstone disease affects the body's biliary system, which creates, transports, stores and releases bile. Bile is a thick fluid, stored in the gallbladder, which digests fat in the small intestine. If the chemical balance of bile contains too much of any of its components, especially cholesterol, crystals form and can harden into stones.
The size of gallstones ranges from as small as a grain of sand to as large as a golf ball. Thus, one large stone can form in the gallbladder, or hundreds.
There are two types of gallstones: cholesterol and pigment stones.
Cholesterol stones are associated with bile that contains an overabundance of cholesterol, or is "supersaturated" with cholesterol.
Pigment stones, made of bilirubin (a product of blood cells), are rarely seen in the United States. They vary in color, either black or brown, which determines location of the stones. Usually, black pigment stones remain in the gallbladder, while brown pigment stones lodge in bile ducts.
Many of those with gallstones have no symptoms and don't need treatment, says Johns Hopkins. Gallstones can cause problems by lodging in bile ducts, stopping the flow of bile or digestive enzymes, and causing symptoms such as severe abdominal pain, vomiting, inflammation and infection.
There are many other conditions that cause similar symptoms to gallstones, including heartburn, stomach flu and food poisoning.
The most common symptom of gallstones is pain in the stomach area. The pain may occur after meals and make it hard to get comfortable. Moving around does not make the pain go away. About 1 to 5 hours of continuous pain is common, according to WebMD.com.
When gallstones continue blocking a bile duct, you may have pain with fever and chills. Also your skin or the whites of your eyes may turn yellow, which could be a sign of an infected gallbladder.
The primary therapy for gallstones that are causing pain, inflammation or infection is to remove the gallbladder, says Johns Hopkins. A second gallstone attack shows a greater chance for future attacks, which may lead to the removal of the gallbladder.
Without a gallbladder, bile will move from the liver to the intestine. There may be slight changes in how you digest food, but the changes are not noticeable, says WebMD.com.
See a doctor if you have pain that starts mid-stomach and migrates to your upper back and you have trouble taking deep breathes. Gallstones may be trapped in your bile ducts.
Sources
Gallstones. Mayoclinic.com. Retrieved November 26, 2012.
http://www.mayoclinic.com/health/gallstones/DS00165/DSECTION=risk-factors
Gallstones. USNews.com. Retrieved November 27, 2012.
http://health.usnews.com/health-conditions/digestive-disorders/gallstones
Gallstones – Topic Overview. WebMD.com. Retrieved November 26, 2012.
http://www.webmd.com/digestive-disorders/tc/gallstones-topic-overview
Reviewed November 28, 2012
by Michele Blacksberg RN