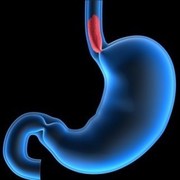 Photo: Getty Images
If you have gastritis, an inflammation of the stomach lining that sometimes causes a dull ache in your upper abdomen after you eat, you might be wondering if changes in your diet can help.
Be aware, though, that gastritis has a wide range of severity. Some people might have stomach lining inflammation but feel no symptoms. Some have a burning sensation, mild pain or discomfort, and some have acute pain. It might depend on the source of the inflammation, which includes overuse of non-steroidal anti-inflammatory drugs(NSAIDS), drug and alcohol abuse, an H. pylori bacterial infection, and autoimmune disorders.
There's a lot of information out there on what constitutes a gastritis diet, along with disagreement on whether a case of gastritis means you should completely avoid caffeine, alcohol and spicy foods.
The NutritionMD website run by the Physicians Committee for Responsible Medicine looked at a number of epidemiological studies on diets for gastritis as well as for peptic ulcer disease. Here are a few highlights:
-- Drinking green tea regularly might help, because its catechins seem to suppress H. pylori-related gastritis. But NutritionMD did not go so far as to recommend green tea for the prevention of gastritis.
-- Alcohol has been shown in different studies both to contribute to and to prevent H. pylori infections that lead to gastritis, so the relationship is complex, NutritionMD said. Moderate consumption of alcohol seems to be OK, but alcohol abuse puts you at a greater risk.
-- Coffee, similarly, has been connected to both increased and decreased risk for H. pylori infections. "Overall, there is no current evidence implicating coffee consumption in the susceptibility to, treatment of, or recovery from gastritis," NutritionMD said.
-- Probiotics show promise because they go after H. pylori cells, inhibiting their growth and interfering with their adhesion to stomach lining cells. But NutritionMD said further study is needed regarding the effect of probiotics on alleviating symptoms and on healing stomach lining lesions.
The website's general recommendation was to follow a healthy diet, limit alcohol, stop smoking, manage stress and exercise regularly.
Alternative-medicine expert Dr. Andrew Weil answered a reader's question about H. pylori on his website and mentioned the use of probiotics in conjunction with antibiotics in fighting the infection -- when H. pylori is causing either ulcers or gastritis. You can get probiotics in lots of food products these days, including yogurts and smoothies. Weil recommended a lactobacillus supplement in liquid or capsule form.
As for spicy foods, it's true that they can mildly irritate your stomach, but there's little scientific evidence that they cause gastritis or damage the stomach lining. Simple moderation when it comes to foods with chili peppers, curry powder and other spicy ingredients might be the key.
Also consider these two food-related recommendations from the Mayo Clinic:
First, eat smaller, more frequent meals to ease the effects of stomach acid during digestion. Second, avoid irritating foods, which can include those that are spicy, acidic, fried or fatty.
Be sure to consult with your health care practitioner for more ideas on gastritis prevention and treatment. Symptomatic gastritis that is left untreated can lead to more serious conditions, such as bleeding ulcers, gastric polyps and gastric cancer.
Sources:
"Gastritis and Peptic Ulcer Disease: Nutritional Considerations." NutritionMD. Web. 4 Nov. 2011. http://www.nutritionmd.org/health_care_providers/gastrointestinal/gastritis_nutrition.html
"Q & A Library." DrWeil.com. Web. 4 Nov. 2011. http://www.drweil.com/drw/u/QAA400819/Battling-Stomach-Bug.html
"Do Spicy Foods Cause Gastritis?" Livestrong.com. 4 Nov. 2011. http://www.livestrong.com/article/495708-do-spicy-foods-cause-gastritis/
"Gastritis: Lifestyle and home remedies." MayoClinic.com. 4 Nov. 2011. Web. http://www.mayoclinic.com/health/gastritis/DS00488/DSECTION=lifestyle-and-home-remedies
Reviewed November 8, 2011
by Michele Blacksberg RN
Tags: