How did being the daughter of a single mother affect you as a child and how does that affect ...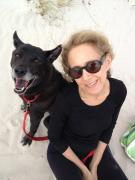 By
amy eller
February 15, 2013 - 5:15pm
As the daughter of a Jewish single mother in NYC in the 60's I was lucky to have my maternal grandparents make up the core of my nuclear family. I thought everyone's Mom worked and that it was normal to go home to your Grandmother's house after school. I had so much love and support as a very young child that it wasn't until I was in first grade that I noticed I was the outsider and it wasn't until the 6th or 7th grades that other kids' parents were getting divorced and all of a sudden I was the popular one cause I had already been there done that!
It didn't occur to me as a young child, center of the universe, that my mother was always left out of parents gatherings or that other mothers deliberately didn't include her when inviting other kids parents to stay during birthday parties. It took until about the sixth grade, oh puberty for gracious skies, for me to realize that my mother, my sister, my best friend was suffering. And I was so confused. Was I the reason for what I perceived as her exile? Is that what having a father did for you? Made the other mothers invite your mother to dinner without fear of her stealing their husbands because she was so pretty and interesting? Was that a group I really wanted to belong to? And why didn't my father want me in the first place?
Flash forward and I realize how her strength flows in my veins . She always said " I don't care if you never get married or have children. I want you to find something you love to do and do it. That independence is what will make you happy. No man can give you that kind of happiness." I have a succesful career as Nutrition and LifeStyle Consultant that gives me great satisfaction. I never did have children although I married twice and would do it again ( she was married 3 times!)
Sistas are you out there? I want to know how you see the similarities and the differences in your mother and yourself. And how you feel about the choices you made and are making. I don't know alot of women who are daughters of single mothers and I crave the warmth and generosity of other women like myself to share stories and offer my support so that we make healthy decisions in our lives.