Myth Busted: Dentures Not Just for Elderly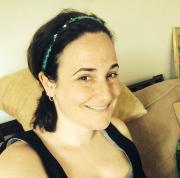 By
cbegun
Blogger
July 1, 2015 - 11:09am
Recently, I was invited to an event in downtown NYC in which I learned that dentures are actually not just for old people. I was surprised to learn that more than 53 percent of people who wear dentures were aged 44 or younger according to a survey conducted by Survata, an independent research firm and commissioned by the GSK Consumer Healthcare group, the makers of Polident and Poligrip products.
There isn't a time I don't worry when my child is playing sports or running around the yard or playground that she can suffer a tooth injury to her adult teeth. Traumatic tooth injuries, such as one caused by a tether ball or even a car accident, can happen and do happen in kids and young adults, more often then we care to admit.
I was really fortunate to get a great education that I feel it is important to share with you, as dental issues can arise due to genetics, trauma and past poor dental hygiene.
You would think I would be aware of these, especially for me personally, as I had an abscess on my molar in my 20s, not thinking much about how I got it, but only remembering how much pain I was in. At the time, I had the tooth removed and chose to go with a permanent bridge versus an implant.
While waiting for my permanent bridge I had to wear a temporary one until it was ready for placement.
Who would have thought that my temporary bridge was actually a partial denture.
It's so funny the language that is used with young adults, because we are so vain. Whether it's partial teeth or bridges, these are dentures.
During this time when I wore the temporary bridge, I carried along with me some adhesive cream, per my dentist, in case the bridge ever fell out and needed extra support to put back in.
The dentist warned me not to put too much cream on, only just a few drops.
As you can imagine, the first time the temporary bridge fell out I ignored my dentist's recommendations and the instructions and felt I needed to add more adhesive to make sure it wouldn't fall out. While my bridge didn't fall out, I had to make up for all the extra saliva that developed in my mouth as result of the unnecessary excess product that was oozing out.
I learned my lesson, you can be sure of that.
Two decades later, since my abscess, medical and health advancements have evolved. To hear about the Polident line of products and to see them used in a demonstration, had me convinced that they work, and that learning more about what can be done to manage dentures and to help avoid pitfalls, was reassuring.
Young or old, we should not be deterred because of dentures. My experience not only reminded me of the physical and emotional pain, but the event helped me to see that I was not alone and that there are ways to help manage these temporary fixtures in our mouths to make our smiles pretty.
Not only was I fortunate to be a part of this event for the education, and the great eats, some of which I look forward to making soon, I was at the event just after the pseudo-tornado ripped through my town and leaving us without power or food in fridge. Thanks to this event, in addition to the great education, I was able to take home some vegetable goodies, which you can bet we all had delicious salads, and a great conversation, as a result.
Disclosure: GSK is a client for the agency that I do work with. I am so glad that I was able to go because it was a good learning experience the knowledge I gained was tremendous.