Managing Kids with Diabetes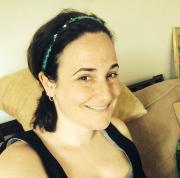 By
cbegun
Blogger
October 2, 2014 - 11:38am
Fellow mommy blogger Hallie Addington is on a mission to inspire and support other parents raising children with diabetes, helping them to manage and thrive.
A kindergarten teacher by day and diabetes mommy blogger by night penning The Princess and the Pump (www.theprincessandthepump.com) diabetes blog, Hallie is sharing her experiences and helping engage with families by creating a community and safe haven that provides support and guidance as families go through this journey together.
Parenting is a hard enough job. To add a health condition like diabetes to it makes it even more difficult. It can be scary, unpredictable and a constant rollercoaster. Trying not to be a nag to our children, we must help guide and support them. For children with diabetes, it's important to help them have the tools to successfully manage their diabetes through frequent monitoring and testing of blood glucose levels, which can impact daily life events including sleep, and hobbies.
Hallie has an eight-year-old daughter who was diagnosed with type 1 diabetes when she was nearly three years old. It was then that Hallie made it her mission to not let this disease hold her daughter back from living and enjoying life.
Used to lying awake at night, even when her daughter seemed to be in control, Hallie worried about the disease that was invading her child's body and whether she was being managed well.
Writing about her trials and tribulations managing my her daughter's diabetes through her blog has helped Hallie to express and work through her feelings and to connect with so many others who are living this "normal" of raising children with diabetes.
Creating a place where other parents and loved ones with children with diabetes can let their hair down and tell it like it is - with no fear of being judged, has been a proud accomplishment for Hallie, and one she continues to cherish as this journey continues.
Our children cannot always communicate or feel when their glucose levels change, especially with very young ones. It's a balancing act that can be quite difficult for parents. That's why medical technology is so important. Therefore, when the first continuous glucose monitoring (CGM) device by Dexcom was approved earlier this year for children as young as age two Hallie was quick to share it on her blog to help her readers so that they could have the ability to monitor blood sugar without too many finger pricks, and to rest a bit more easy knowing that alarms could be set up should kid's glucose levels go too low or high even during sleep or while they are at school.
Sharing her story and experience has not only helped Hallie, but she has found that others have benefitted from it too. She has also since gotten involved with the Juvenile Diabetes Research Foundation (JDRF) serving on the local chapter's Board in her community and participates on many committees.
With medical advancements such as continuous glucose monitoring (CGM), parents can have greater peace of mind. This, coupled with blogs and resources like Hallie's blog, managing diabetes with children has become a community affair with families coming together to support each another.
Disclosure: Dexcom is a client I represent conducting public relations and education around the topic of diabetes. Hallie Addington is a mom and blogger who has wished so much to share her story and experience, and has had great experiences with Dexcom technology in helping to manage her child's diabetes that she asked to share her story even more. Her blog is independent.