Is it Just because he's 2? Or am I nuts?!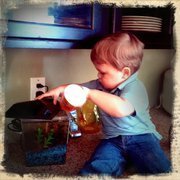 By
Daniedoodles
October 14, 2011 - 4:57pm
Hello Fellow Moms,
My little man is 2.5, Since he was about a month old he's slept all the way through the night he's a solid 12 hour sleeper! With a nice long 3-4 hour nap during the day. In august I finished College and started working right away, and slowly Tristin's sleeping has digressed?! Up until recently we could do his normal routine dinner, playtime, bath brush teeth, book in bed and a kiss goodnight! Not anymore. He's decided bedtime is on my lap snuggling. (mind you it only takes 5 minutes of snuggling for him to fall asleep!) or when I put him in bed now, it can go up to 2 hours of screaming, and repeated escape attempts from his bedroom. This is not how I like to spend my night.., and Its not how I want him to spend his nights either. So my next problem is once he falls asleep and I put him in bed, He now wakes up in the middle of the night and crawls in our bed, on top of my pillow, between my legs, or even just on top of me and passes out. Depending on his location, I either wake up or sleep through it... but what do I do to break it? Any suggestions? My husband is entirely against a "family" bed... I don't blame him either. I am doing all that I can to give Tristin all my attention in the mornings before work, a great big hug when I leave, and ALL of my attention when I get home. He won't leave my side. He cooks dinner with me, and we do chores together now... I Love LOVE my child, and I know part of it is my going back to work. He's always had me to himself all day long... but if I could get this sleeping thing under wraps again I'd feel so much better. Any suggestions, thoughts ideas?!
-Danie