Open Letter: Dr. Amy B. Tuteur, your blog site Skeptical OB, Ms Gina Crosley-Corcoran, your ...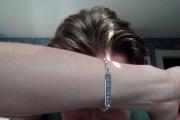 By
Jessica A Bruno
July 8, 2013 - 1:12pm
Know that I have been doing this for sometime now. Still feel better if I start all over again with much better version of it. In which its directed to both of them instead of one of them. Even though I was apart of The Feminist Breeder Forums, but still want to know the exact truth.
Tell you, this is copied and pasted from my own email, blog entry, post/threads, etc. In which I'm really love to know from the sources as the other way around. With corrections to it.
7/8/13
Dear Dr. Amy B Tuteur, your blog site Skeptical OB, Ms Gina Crosley-Corcoran, your blog site The Feminist Breeder:
Whom are you really and what's behind your blog site story? Have to say I never really questioned you, your blog, story before until I exactly read of your many blog entries. In which it appears to me you appear to be no skeptical OB, The Feminist Breeder, and etc. By the way I got the link via another link and which I started to investigate you. But really haven't found anything solid on you or blog site as of yet to determine if you exactly a skeptical OB/Feminist Breeder or something else entirely. In which I came here to see if theres anything solid about you and you blog site to help me to determine whom you really is and you blog site as well.
Think thats it for now. Sorry, for all of the confusion that I have caused with all of this.
Thank you, again, in advance.
Yours Truly,
Jessica A Bruno