Philomena: The poignant true story of a mother and the son she had to give away, Martin ...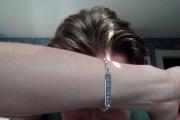 By
Jessica A Bruno
March 4, 2014 - 3:33pm
...and Forward by Dame Judi Dench
Now a major picture starring Judi Dench and Steve Coogan
Was wonderful buy and read. Now, I can't wait to see the movie of it and beyond. I mean with the epilogue part of it with getting to the Mr. Hess birth father and Mary's search for her birth mother/father. Reunion as well if her birth mother is still alive and beyond.
Think thats it for now.
Thank you, again, in advance.
Yours truly,
Jessica A Bruno