Pushing Past Exhaustion!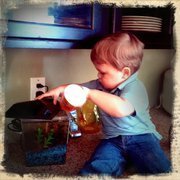 By
Daniedoodles
August 19, 2011 - 10:52am
Hi Everyone!
Anyone have any special tips on how to push through your day even though your body says I'm crashing?!
I know we have all felt that way, and for a long time I felt that way every day. My list of "chores" and things to do kept getting longer and longer, and because I was doing less and less my way of living changed. I stopped doing laundry, and when I HAD to I'd pick out the few things I needed for a few days and left the rest. The dishes would pile up, my son's toys would scatter all throughout the house, and the more and more I let that happen, the more and more miserable I felt. I felt the pressure of the all the things I let slip in my life cause my body was dragging along at a dreadfully slow pace, and some days stopped dead in its tracks.I got to thinking about where all my energy went, and came to the conclusion that I was letting my body think for me instead of my Mind. So I started thinking with my mind and decided to "Reward Myself" I thought about all the things I'd rather be doing with my day and time, than all the things that I am dreading playing catch up on.
My passion is Art. If it has anything to do with crafts, art, drawing, painting,.... "Michael's"... just thinking of going there gets my blood pumping! I could walk through that store all day long! So I pulled up a craft and ignored all my other "Negative" list of things to do. I got my mind pumping and my body followed! And I stopped beating myself up about that List.... and started focusing on the things that got me going.
Today when I need to rest for 10 minutes, I rest, then I'll go work on that pesky list of chores for 5 to 10 minutes... and then put my mind to the things I love and focus on them. I Love My Family, My Son, Art....etc. I balance the good and the bad, and try to surround myself with the good stuff, and balance it out with the bad. I incorporate this with the people in my life as well. I can't always eliminate the "Negative" people in my life. For instance my Father, he will nit pick till he's blue in the face, and I used to let him get me down. He always has something to say about my house, my weight...there is always something.... I finally said to him " I'd rather have a dusty house and a happy family than a spotless house and be miserable". I love my father dearly, and I want him around forever... but when you can't remove that negative factor in your life... face it head on and find the good in the negative. Yeah My house is still not perfect, but I couldn't imagine a Happier family Life. I LOVE my husband, and we have the happiest 2 year old ever.
I wanted to know what gets everybody else ticking and moving on their sluggish days, and share how I have found a way to manage the good and the bad of my hard days!
A Car a rest stays at rest, A Car in motion stays in motion (assuming you give it a little gas!). So start gassing up your minds and see where it takes you!
Its a wonderful day!