OHS Radio – LauraBeth Young – From Disabled to Dazzling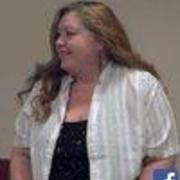 By
Trish Robichaud
January 30, 2011 - 1:04am
Trish's guest for this week will be LauraBeth Young, an inspirational poet, writer, singer, motivational speaker, Achievement Life Coach, and the owner of ~Cheerful Hearts~ at www.CheerfulHearts.org.
Her journey from disabled to dazzling took her from the depths of despair to the passion of empowerment. LauraBeth uses her heart-touching talents to serve God and inspire others to never give up on themselves or their dreams.
OPTIMAL HEALTH SEEKERS' RADIO, airing Sundays at 4pm Eastern, is an online radio show that educates, inspires and empowers people seeking to find their own personal level of optimal health.
Host Trish Robichaud brings a voice of compassion, logic and humour to those who are motivated to take an active, even proactive role in managing their health.
Join her on Sunday, January 30 at www.OptimalHealthSeekers.com!
"A car accident at the age of 18 was the first of a series of injuries that had me bed-ridden by 28. I had four sons to take care of by then and felt like a failure because I could not be the hands-on mom I once was. After ten years of chronic pain and numerous failed spinal surgeries, miraculously, in 2009 I found new medical care and stood erect for the first time in over 10 years."
Join us and learn how LauraBeth finally surrendered with acceptance, after having been stripped of everything she loved, and in the end discovered how truly valuable she is in God's eyes.
* Where: www.OptimalHealthSeekers.com
* Date: Sunday, January 30, 2011
* Time: 4:00 – 4:30 pm Eastern / 1:00 – 1:30 pm Pacific
Listeners have the option of tuning in online as well as calling into the show at 1-877-497-2933 (US only) or 1-714-464-5251 to ask questions.
There's also a chat room accessible to www.BlogTalkRadio.com users (it's a free account) who'd like to pose questions by chat instead of calling in.
Go to www.OptimalHealthSeekers.com now to sign-up and be ready to participate on the show!
Please tweet on Twitter, post on Facebook and share on other networks about this empowering radio show!