When sitting meditation just didn't cut it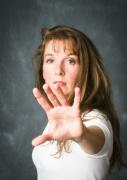 By
Ascent Wellness
January 24, 2013 - 8:14pm
I have been a seated meditator for over 10 years. And I enjoyed it, don't get me wrong. But there were so many times when I couldn't sit for one reason or another, especially being a mother of young children. Not being able to take care of myself was a really frustrating feeling. Mindfulness meditation was my technique of choice, and I used it daily, often, wherever I was. But still, I desired more. A deeper sense of calm that I could not access. I knew there must be more to the experience of inner peace. But the ability to witness it eluded me.
The other day I was practicing Qigong in my bedroom with 3 little children streaming in and out, talking, bouncing on the bed, pretending to move with me, watching me, and I remained calm, focused and joyful in my practice. I could have never managed to be sitting and maintain concentration throughout all that chaos! With Qigong, I am not only able to access a deep sense of calm within myself and still be present for my family, but also, my children where able to see me doing it. I know in my heart that someday when my children are struggling to find their own way in the world, they will remember me, taking care of myself in front of them, cultivating my inner world before their eyes. In that way, I am not only taking care of myself, but will be an inspiration to them.
When sitting meditation just didn't cut it... I found Qigong.