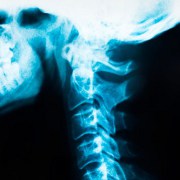 Photo: Getty Images
A cervicogenic headache is caused by a spinal problem and occurs when pain is referred from the cervical spine area (the spinal bones in the neck). 70 percent of cervicogenic headaches are caused by a problem with the C2-C3 bones, according to research carried out on this type of headache. Pain comes from the bones and soft tissues of the neck, but can also arise from articular and vascular structures in the neck.
Occipital neuralgia is a type of cervicogenic headache, caused by injury or compression of the occipital nerves. Possible causes include:
• Over-tight neck muscles (this can result from stress)
• Head trauma
• Osteoarthritis of the spine
• Inflammation due to infection
• A tumor compressing the nerves
• Other illnesses, such as diabetes or vasculitis
• Frequent activities that involve keeping the head downsuch as reading a book
Treatment
The most effective treatments are manipulative therapies such as spinal manipulation, chiropractic adjustments and physical therapy.
Anaesthetic injections can also be given to temporarily block pain in the neck.
Occasionally, surgery may be carried out to decompress the cervical spine, although sometimes pain re-occurs after surgery so surgeons only perform the technique on those patients with the most severe cases.
Medications such as anti-depressants or anti-convulsants can be given. These alter the response of nerve fibers so that, with accumulative use, pain is not felt. However, they have only been shown to have modest benefit and are often ineffective if they are the only treatment used.
Muscle relaxants have been shown to help ease the pain of the condition and more research into this type of treatment is being done. Doctors are also experimenting with injecting Botulinum toxin, type A (botox) into the neck of cervicogenic headache sufferers.
If you are having intractable headaches that begin at the back of the neck, please see your doctor as headaches that aren't treated can be difficult to get rid of.
Ask that your spine be evaluated (an MRI scan can determine any structural problems occurring in the spine). You can then ask to be referred to a physical therapist for manipulation of your spine.
You also have the option of seeing chiropractor or osteopath privately.
Sources:
Cervicogenic Headache: A Review of Diagnostic and Treatment Strategies, The Journal of the American Osteopathic Association, Vol 105, No 4_suppl , April 2005, 16-22. Full text:
http://www.jaoa.org/cgi/content/full/105/4_suppl/16S
Cervicogenic Headache, Headache Clinics UK. Web. 14 October 2011. http://headacheclinics.co.uk/sidenavprimary/headache-info/cervicogenic-headache
The effect of spinal manipulation in the treatment of cervicogenic headache, Journal of Manipulative Physiological Therapy, 1997 Jun;20(5):326-30. Abstract:
http://www.ncbi.nlm.nih.gov/pubmed/9200048?dopt=Abstract
Occipital Neuralgia Information Page, National Institutes of Health. Web. 14 October 2011. http://www.ninds.nih.gov/disorders/occipitalneuralgia/occipitalneuralgia.htm
Cervicogenic headache: long-term prognosis after neck surgery, Acta Neurol Scand. 2007 Mar;115(3):185-91. Abstract: http://www.ncbi.nlm.nih.gov/pubmed/17295714
Joanna is a freelance health writer for The Mother magazine and Suite 101 with a column on infertility, http://infertility.suite101.com/. She is author of the book, 'Breast Milk: A Natural Immunisation,' and co-author of an educational resource on disabled parenting.
She has occipital neuralgia and is currently undergoing treatment for intractable headache.
Reviewed October 14, 2011
by Michele Blackberg RN
Edited by Jody Smith
Tags: