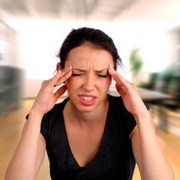 iStockphoto/Thinkstock
We all get it — that throbbing, pounding feeling in our heads that makes it hard to concentrate. The most common type of headache is a tension headache, which is often caused by tight muscles in the jaw, shoulders, scalp and neck, according to MedlinePlus.
You may get a tension headache when you are stressed, hold your head in an abnormal position, or suffer from anxiety or depression.
A tension headache is a primary headache, which "is caused by dysfunction or overactivity of pain-sensitive features in your head" and "[is not] a symptom of an underlying disease," noted the MayoClinc.com. Other examples of a primary headache include cluster headaches and migraines.
But sometimes, a headache can be a warning sign of a serious medical condition. These types of headaches are called secondary headaches.
Several different disorders can cause a secondary headache. Disorders involving blood vessels and bleeding, such as blood clots, brain aneurysm, brain arteriovenous malformation, intracranial hematoma and stroke, may cause headaches.
Exposure to certain medications and toxins may result in secondary headaches. Individuals who have overused pain medication or have carbon monoxide poisoning, may develop headaches.
Inflammation disorders, including encephalitis, giant cell arteritis and meningitis, are possible causes of secondary headaches.
A head injury, such as a concussion, may result in a secondary headache. A disorder called post-concussion syndrome can cause headaches as well.
Other examples include trigeminal neuralgia, seizures, spinal fluid leak, brain tumor, hydrocephalus, pseudotumor cerebri, temporal arteritis and chiari malformation.
There are signs to look for with a headache that could indicate it is much more severe. For example, if you have a headache that is "your worst ever," call 911, even if you frequently have headaches, according to MedlinePlus.
If a headache causes changes in your functioning — balance loss, memory loss, or vision or motor changes — seek immediate medical attention. Sudden headaches that are very severe also warrant a call to your doctor.
Call your health care provider if you have a severe headache that occurs along with a stiff neck, nausea, fever or vomiting.
If you have certain medical conditions, you should alert your health care provider if you develop new headaches. This includes individuals who have cancer or HIV/AIDS, according to the National Institute of Neurological Disorders and Stroke.
Seek immediate medical attention if you develop a headache after a head injury.
Should you develop a headache after participating in certain activity, such as sex, weightlifting, jogging or aerobics, call your health care provider, noted MedlinePlus.
Other serious symptoms that warrant emergency medical attention include having a severe headache in one eye with that eye appearing red, worsening of the headache over 24 hours, having headaches for the first time after age 50, and headaches that occur along with a shortness of breath and convulsions.
References
MedlinePlus Medical Encyclopedia. Headache. Web. 29 August 2012
http://www.nlm.nih.gov/medlineplus/ency/article/003024.htm
MayoClinic.com. Headache. Web. 29 August 2012
http://www.mayoclinic.com/health/headache/MY00407/DSECTION=causes
National Institute of Neurological Disorders and Stroke. Headache: Hope Through Research. Web. 29 August 2012
http://www.ninds.nih.gov/disorders/headache/detail_headache.htm
MedlinePlus Medical Encyclopedia. Headaches — Danger Signs. Web. 29 August 2012
http://www.nlm.nih.gov/medlineplus/ency/patientinstructions/000424.htm
Reviewed August 29, 2012
by Michele Blacksberg RN
Edited by Jody Smith