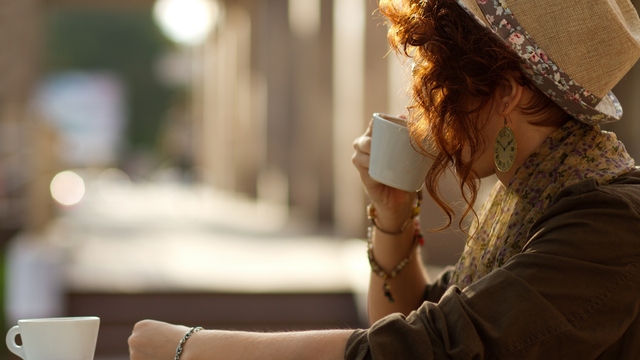 Gennadiy Kravchenko/PhotoSpin
Like baseball, hot dogs and apple pie, Americans love coffee. In fact, more Americans drank coffee than soft drinks in 2014, according to annual trends reported by the National Coffee Association.
The NCA has conducted a survey annually since 1950. Their 2014 survey showed that 61 percent of Americans ages 25-39 — primarily gourmet connoisseurs — go for the pick-me-up every day.
Getting your daily perk may do more than rev your engines. Studies show there may be some health benefits to raising your cup.
Here are five guilt-free reasons to drink up.
Brain Food
Just one cup of joe a day may keep your brain sharp as you age. A study from the University of North Dakota School of Medicine and Health Sciences found 3 mg of caffeine each day — about the amount found in a cup of coffee — blocked the disruptive effects of cholesterol that researchers have linked to Alzheimer's.
Liver and let Live
Caffeinated coffee can reduce the risk of developing advanced fibrosis or cirrhosis.
It can also lessen the risk for a type of liver cancer called hepatocellular carcinoma (HCC) due to fatty deposits that damage the liver, Dr. Stephen A. Harrison, Associate Dean of San Antonio Uniformed Services Health Education Consortium said in a 2013 journal review article.
Just two cups a day is all it takes to prevent nonalcoholic-related liver cancer, Harrison said, but there's a catch. it's "not a panacea. It's not a cure. It's a lifestyle change that may confer a benefit in the majority of patients that consume it over a long period of time."
Tumor Buster
Women who drank about four cups of coffee per day appeared to have a lower endometrial cancer risk compared with those who drank less than a cup each day, according to a study conducted by Dr. Melissa A. Merritt, a research fellow in cancer epidemiology at Imperial College in London.
Several studies have verified these results, however researchers still don't know which one, or which combinations of more than 150 compounds found naturally in coffee, could be responsible for decreasing the risk.
Happy Juice
While drinking coffee may give some people the jitters, a study conducted by Harvard School of Public Health found that women who sip four or more cups of jolting java per day may lower their risk of depression by as much as 20 percent.
Women in the study who consumed decaf, tea, soft drinks, chocolate, and other beverages containing less caffeine, did not appear to be protected against depression.
Also, the benefits may not be transferrable to men. At least one prospective study suggested a link between depression risk in men and the world's most popular central nervous system stimulant.
Glucose Blocker
There is evidence that heavy coffee consumption may be beneficial in staving off Type 2 diabetes. Chinese researchers found that people who drank four or more cups a day had about half the risk of developing this condition. And every cup consumed after four further decreased the risk another 7 percent, according to the study.
The researchers said two categories of compounds in coffee significantly block a substance called human islet amyloid polypeptide (hIAPP) that has been identified to cause the disease.
Sources:
2014 Coffee Drinker Trends. NCA NCDT.
http://www.ncausa.org/i4a/pages/index.cfm?pageID=924
Can a Coffee a day keep Alzheimer's away?> University of North Dakota press release. 7 April 2008.
http://und.edu/news/archives/story.php?id=2299
Is it time to write a prescription for coffee? Coffee and liver disease.
Torres DM, Harrison SA. Gastroenterology. 2013 Apr;144(4):670-2. Abstract online: http://www.gastrojournal.org/article/S0016-5085(13)00226-6/abstract
Impact of Coffee on Liver Diseases: A Systematic Review. Sammy Saab, Divya Mallam, Gerald A. Cox II, Myron J. Tong. Liver International. 2014;34(4):495-504.
http://www.medscape.com/viewarticle/827617_3
Coffee Intake May Lower Endometrial Cancer Risk. American Association for Cancer Research press release. Jeremy Moore. 6 Feb. 2015
http://www.aacr.org/Newsroom/Pages/News-Release-Detail.aspx?ItemID=665#.VNTmp0J6ifQ
Coffee Components Inhibit Amyloid Formation of Human Islet Amyloid Polypeptide in Vitro: Possible Link between Coffee Consumption and Diabetes Mellitus. Agric. Food Chem., 2011, 59 (24), pp 13147–13155
DOI: 10.1021/jf201702h. Publication Date (Web): November 7, 2011. Abstract at:
http://pubs.acs.org/stoken/presspac/presspac/full/10.1021/jf201702h
Drinking coffee may decrease depression risk in women. Harvard T. H. Chan School of Public Health.
http://www.hsph.harvard.edu/news/hsph-in-the-news/coffee-depression-women-ascherio-lucas
Reviewed February 6, 2014
by Michele Blacksberg RN
Edited by Jody Smith