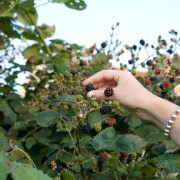 Photo: Getty Images
Whatever the time of year, boosting the immune system helps us stave off colds and flu. Scientific evidence suggested that a diet rich in antioxidants strengthens the immune system, helping prevent these and other more serious illnesses like cardiovascular disease and possibly cancer.
Antioxidants abound in fruits and vegetables, particularly those that are sunset-colored (red, orange or yellow), blue or purple. These foods contain beta-carotene and vitamins C and E, the three key antioxidant vitamins. Zinc and selenium also may help strengthen immunity; these antioxidants are present in foods such as seafood, nuts, beans and whole grains.
While these vitamins and minerals can also be consumed in supplement form, the U.S. Preventive Services Task Force did not find sufficient evidence to recommend supplements for prevention of cancer or heart disease. A 2007 Cochrane Collaboration team report went further. After reviewing numerous scientific studies, they concluded that antioxidant supplements might even cause more harm than good.
Antioxidants such as vitamins A and E are stored in the body and eliminated slowly; ingesting too much of these via supplements can be toxic to the system. But a diet full of antioxidant-rich foods can provide the recommended daily allowance of these important vitamins and minerals while giving the body additional nutritional benefits from the food sources.
Be sure to vary your diet and avoid putting all your blueberries in one basket! While some foods have the highest antioxidant content, these may not necessarily have the highest health benefits.
"A big factor in all of this is what happens in the digestion and absorption process," Ronald Prior, PhD, commented to WebMD. The chemist and nutritionist explained, "With some of these compounds, it appears that even though they have a high antioxidant capacity, they may not be absorbed."
Among top food sources of antioxidants are cranberries, blueberries, blackberries, beans, artichokes, Russet potatoes, pecans, walnuts and hazelnuts. Many spices, such as ground cloves, cinnamon and oregano, are also high in antioxidants, though they are consumed in smaller serving sizes than fruits and vegetables.
A diverse diet is the optimal choice for boosting the immune system. Eating fruits, vegetables, beans and whole grains provides key antioxidants as well as other necessary vitamins and minerals derived from a variety of natural food sources.
Sources:
Antioxidants and Your Immune System (WebMD)
Antioxidant Riches Found in Unexpected Foods (WebMD)
Antioxidants and Other Phytochemicals: Current Scientific Perspective