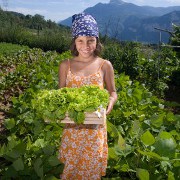 Photo: Getty Images
Watch out locavore lovers, there's a new generation of farmers' markets in town. The Slow Food movement is taking it to the next level with the introduction of Earth Markets.
Farmers' markets have become the popular solution for many communities to enjoy locally grown produce along with farm fresh eggs, cheese, meats and more. In 2010, the USDA reported more than 6,132 markets operating across the country, a 16 percent increase from 2009.
The Earth Market concept, created by the Slow Food organization, takes it one step further with the guiding principles of its own philosophy of good, clean and fair.
"These community-run markets are important social meeting points, where local producers offer healthy, quality food directly to consumers at fair prices and guarantee environmentally sustainable methods," according to the Slow Food International website. "In addition, they preserve the food culture of the local community and contribute to defending biodiversity."
Vendors are required to offer an educational component at their booth and adhere to a non-GMO policy.
Already established in Italy, Austria, Israel, Lebanon and Romania, the first U.S. venture in Earth Markets kicked off this summer in Greenville, S.C., connecting farms, food and community in this growing region.
"We've been waiting a while," said Gigi Frassanito, head of the Earth Markets program internationally. "The movement is so strong in America. It is good to get the pride alive for your food."
In an Earth market, you will only find producers selling their own products, which range from produce, preserves, meat and dairy products, eggs, honey, sweets, bread, oil and beverages. The food must have ties to the community, so the Greenville Earth Market features foods with a Southeast flair many of which are part of Slow Food's catalog of rare and disappearing foods called, "The Ark of Taste."
The Ark is an international catalog of foods threatened by industrial standardization, the regulations of large-scale distribution and environmental damage.
Slow Food supports an innovative approach to food and taste education with a focus on promoting land to table efforts. The non-profit, eco-gastronomic member-supported organization was founded in 1989 to counteract fast food and fast life, the disappearance of local food traditions and people's dwindling interest in the food they eat, where it comes from, how it tastes and how our food choices affect the rest of the world.
Suzanne Boothby is a Brooklyn-based wellness writer, certified health coach and co-founder of New York Family Wellness. Visit www.suzanneboothby.com to learn more.
Resources:
http://www.ams.usda.gov/AMSv1.0/farmersmarkets
http://www.earthmarkets.net
http://www.slowfoodusa.org
Edited by Shannon Koehle