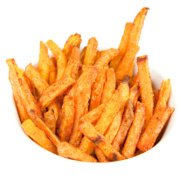 Photo: Getty Images
Watch out McDonald's, there's a new fast food player on the block. Green cuisine is in—coming complete with sweet potato fries, ingredients sourced from local farms and compostable plates.
Eco-friendly food trucks are bringing farm-fresh ingredients to the streets. As more people search for healthier food choices, these mobile units outfitted with commercial kitchens blast the golden model that affordable fast food has to be greasy burgers and fries. These mobile restaurants prove that fast food can be healthy, green and delicious.
"It's a totally new way of getting the message out there," said Ami Beach Shadle, co-owner of the just-opened all-vegetarian, eco-friendly gmonkey mobile truck. "We're creating a fan-based food business."
Shadle, a certified holistic nutritionist and raw food chef, along with her husband, Mark, an award-winning chef and co-owner of a vegetarian restaurant in Middletown, Conn., view their latest endeavor as a natural evolution of bringing the farm to the street.
"This mobile kitchen is an extension of our philosophy about the food revolution: that people should have access to healthy, tasty, eco-friendly food choices," Mark said. "Our goal is to break any stereotypes of typical street vending foods and redefine them in a totally green, provocative, and innovative way."
The couple lives on an historic property from the 1700s, which they are nurturing back into an organic solar farm that serves as the headquarters for the business and the source for many ingredients on their menu.
They make all their ingredients from scratch from the ketchup for Mark's famous sweet potato fries to the breads for their popular farm-to-street veggie burger. Other green elements of the truck include composting all waste and running on bio-fuel.
Another eco-foodie truck around since 2005 is Let's Be Frank, started by a husband-and-wife team, who wanted to support the shrinking community of family farmers and ranchers in California.
"We were inspired and informed by a range of experts who believe that pasture-based livestock management is good for the rancher, good for the animals, good for the environment, and good for the consumer," according to their website.
Sue Moore was the former "meat forager" for Berkeley, Calif.'s famed Chez Panisse, and Larry Bain was a restaurant professional and member of the San Francisco Sustainable Food Systems team.
Their field-to-frank concept elevates the traditional American hot dog, using only locally sourced grass-fed beef so that it would be free of hormones, antibiotics, nitrates and nitrites. Today they have trucks in San Francisco and Los Angeles and all dogs are served with organic condiments.
The rise of mobile-rants is also a testament to the entrepreneurial spirit of the economic downturn. Opening a new restaurant can cost anywhere from $850,000 to $1.5 million, but food trucks can start at $90,000 for a used vehicle and go up to $250,000 for a new model with a customized kitchen, according to a January 2011 New York Times article.
Eco-food trucks are a great way to increase customer base and promote green living without the risk of a new brick-and-mortar establishment.
The gmonkey truck posts its menu online and uses Facebook and Twitter to tell fans where they will be that day. The mobile platform has been a big success; in their first week of opening they are drawing big crowds to farmers' markets and received seven catering requests.
Suzanne Boothby is a Brooklyn-based wellness writer, certified health coach and co-founder of New York Family Wellness. Visit www.suzanneboothby.com to learn more.
Edited by Alison Stanton