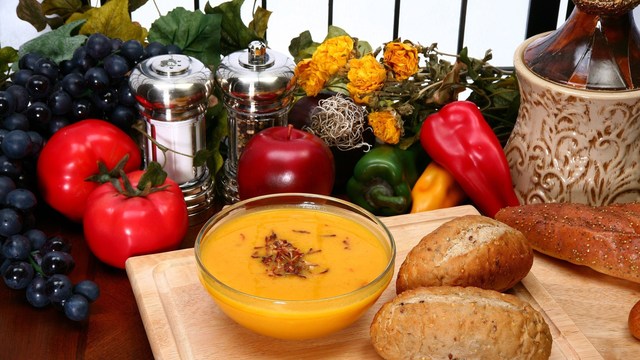 Jaimie Duplass/PhotoSpin
Thanksgiving is around the corner, and the thoughts of cooks around the country are fixed on The Menu. The good host will take into consideration the needs and preferences of all their guests. Some of those guests may be vegetarian.
I'm not a vegetarian but I used to be and I remember plenty of holiday meals that were less than hearty for me. I skipped the main course, and majored on potatoes, stuffing and vegetables.
I didn't mind but on the other hand, a host who can lay their table with the vegetarians among them in mind will earn a special place in the hearts and memories of their vegetarian guests.
Many meat-eaters focus mainly on the bird, and vegetables can be considered more of a garnish or window dressing as opposed to a hearty part of the meal.
The ambitious cook may consider providing a tofu turkey or loaf as an entree for their vegetarian guests. These dishes can be glazed or done with a marinade to make them special.
And of course, a meatless entree doesn't have to pretend to be turkey. Meatless chili, pasta, couscous,vegetable-based stew are just a few ideas that can help make your dinner a success for everyone.
Your vegetarians will appreciate a variety of side dishes. Traditional Thanksgiving accompaniments include potatoes, squash, sweet potatoes. In some parts of the country, a green bean casserole is often a part of the holiday dinner.
Other veggies can be cooked like green beans, peas and carrots, or raw like celery, peppers, radishes. Raw vegetables can be laid out on a platter with dip, or tossed together in a salad.
For the vegetarian, pumpkin isn't just for pie, though a vegan pumpkin pie (no milk or cream) wouldn't go amiss either. This holiday squash can also make great soup, bread or muffins.
What to Watch Out For
If you're not familiar with vegetarianism, you'll need to be aware of a few things that should be avoided. Things that might not seem readily apparent to the uninitiated.
Some stuffings are prepared with turkey stock and pan drippings. They may also contain cut up giblets (organs) and bits of turkey meat. For the vegetarian this is right off the list of consumables.
Stuffing recipes for vegetarians and vegans abound, fortunately. Your vegetarian stuffing doesn't have to be plain or boring.
Cranberries, cornbread, celery, onions, mushrooms and other vegetables will make a stuffing to be enjoyed rather than eaten for its "stuffing" properties. That is to say, it won't just be eaten to stave off hunger at a meal with few vegetarian options.
Gravy is one of the things many people look forward to at a Thanksgiving dinner. Make sure your vegetarian friends get to participate in this pleasure by using vegetable stock or broth, and adding some onions, mushrooms or other ingredients, and seasoning with herbs to create a taste treat.
Turkey stock or drippings are a no-no. And depending on your vegetarian, you may also need to make it possible for them to avoid butter, other dairy products and eggs.
Gelatin is used in many desserts and some side dishes, but would be off the menu for many vegetarians. That's because gelatin is an animal by-product. Agar agar is a vegan product which is made from seaweed and works as a thickener that can be used in place of gelatin.
Your table will be a visual delight full of variety and your guests will all be able to dig in without fear or disappointment. Make it a great Thanksgiving for all the people you love.
Sources:
Vegetarian Thanksgiving Recipes. About.com. Retrieved Nov. 18, 2013.
http://vegetarian.about.com/od/vegetarianlifestyle/tp/thanksgivingrecipe...
Entrees. Vegetariantimes.com. Retrieved Nov. 18, 2013.
http://www.vegetariantimes.com/recipe/entrees
What is gelatin made of? PETA.org. Retrieved Nov. 18, 2013.
http://www.peta.org/about-peta/faq/what-is-gelatin-made-of
25 Healthy Recipes for a Vegetarian Feast. Health.com. Retrieved Nov. 18, 2013.
http://www.health.com/health/gallery/0,,20320446,00.html
Visit Jody's website at http://www.ncubator.ca
Reviewed November 19, 2013
by Michele Blacksberg RN