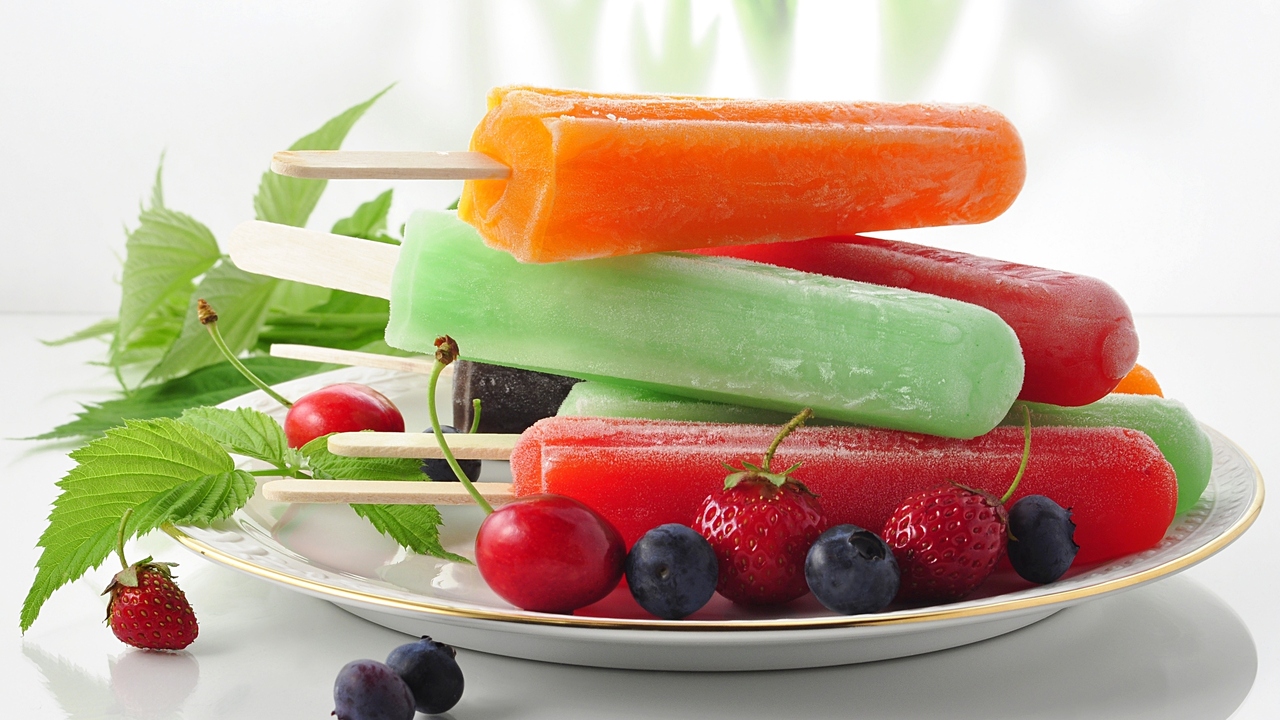 Svetlana Foote/PhotoSpin
Shaved ice, snow cones, Italian ice, water ice and frozen pops are all cool and refreshing on a hot, humid summer day. However, these frozen summer staples are loaded with sugar, and make for sticky, messy hands.
If you are tired of buying frozen sticks resembling antifreeze that push out of a piece of plastic, you may want to try these healthy homemade iced treats.
Over the weekend, I made these frozen goodies for my husband and he gave them two thumbs up with a wink and a smile.

Craving some frosty orange juice? Here are three simple-to-make, fun-to-eat recommendations:
For an easy no-fuss treat, just freeze orange juice in the molds for a few hours. The juice is refreshing and sure to please. Doesn't everyone loves orange juice?
If you want to get really fancy, you can try making a POG–cicle. This is one-third passion fruit juice, one-third orange juice, and one-third guava juice. POG juice is a morning staple in the Hawaiian Islands.
Maybe you'd like to try an orange-ade ice pop. This is half orange juice and half lemonade.
Remember your favorite frozen orange cream bars on a stick from your childhood? Here is an easy healthy recipe.
Ingredients:
6 ounces orange juice
½ cup of Greek yogurt
½ banana or 1-2 teaspoons of honey
2 tbsp. milk (regular, soy, coconut)
Directions:
1) Mix all ingredients in blender.
2) Pour into molds.
3) Freeze for a few hours.
4) Enjoy!
For those who love watermelon, try your hand at this berry sweet recipe. I modified it from the Better-in-Bulk website.
Ingredients:
2 cups watermelon
1 cup strawberries
½ cup blueberries
1/8 cup sugar (optional)
Juice from one lime
Directions:
1) Puree the fruit and juice from the lime.
2) Sample and add sugar if needed.
3) Pour into mold or small cups.
4) If using small cups, add the craft sticks after an hour of freezing.
5) After 4 hours, peel away the paper cup and you have an instant cold treat!
If you are making the ice pops in small cups, I highly recommend putting the cups on a cookie sheet or tray for an easy entrance and exit from the freezer.
If you own one of those fancy machines which make ice pops in seven minutes, these recipes will also work. Just remember to freeze your container 24 hours before you add the fruit mix.
Sources:
"Frozen Fruit Pops | Skinnytaste." Frozen Fruit Pops | Skinnytaste. Web. 15 June 2015.
http://www.skinnytaste.com/2011/06/frozen-fruit-pops.html
"Watermelon Berry Popsicles." Better in Bulk. 15 May 2015. Web. 15 June 2015.
http://betterinbulk.net/2015/05/watermelon-berry-popsicles.html
"Our Creamsicles Have 4 Whole Food Ingredients; Store Bought as over 30 Processed Ingredients." Super Healthy Kids. 20 May 2013. Web. 15 June 2015.
http://www.superhealthykids.com/orange-creamsicles-and-zoku-pop-maker/
Reviewed June 15, 2015
by Michele Blacksberg RN
Edited by Jody Smith