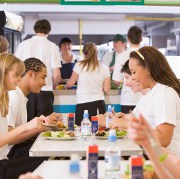 Photo: Getty Images
The school food movement received a lot of attention when celebrity chef Jamie Oliver started a "Food Revolution" reality TV series in West Virginia. The show returns for a second season on Tuesday, April 12, 2011, and this time Oliver is tackling school food issues in Los Angeles.
Oliver's show connects the dots between processed, junk foods served in schools and the rising rates of obesity, heart disease and diabetes in America's children. But the fight for better school food isn't just happening on TV. In cities across the country, parents, advocates and students are working to improve school food options.
One pilot program in New York City public schools shares a similar mission to Oliver's "Food Revolution." It puts recent culinary school graduates to work in schools cooking alongside cafeteria staff to prepare fresh meals from scratch.
Wellness in the Schools was created by a group of concerned parents with a simple goal: they wanted their children to have the best possible environment in which to learn.
Launched in 19 schools this year, the program educates students and families about the importance of eating whole, unprocessed foods. The in-residence cooks support the preparation of salad bars and fresh homemade meals.
Chef Karolina Palmer, a 2008 graduate of the Natural Gourmet Institute for Health and Culinary Arts, is the resident chef at PS 112 in East Harlem. All went well the first few weeks, Palmer said. She worked in the kitchen, trained the staff and taught them recipes from the wellness menu.
"I was really lucky," she said. "My kitchen team was strong—they had culinary skills and systems in place."
Her biggest challenge was the kids. They were not receptive to the new food. So Palmer decided to step out of the kitchen and do more marketing for the program. She let the kids know why she was there and made a case for healthier eating. She started in-class cooking lessons and even hosted a wellness fair for the kids.
"I'm in the cafeteria everyday whether or not I'm cooking," Palmer said. "I stand by the salad bar. I let them ask questions and make up games with them."
While change takes time, she said, she has noticed a big difference in the kids' attitudes about healthy eating. They tell her, "I want to grow up and be a chef like you" or "I'm cooking at home with my mom."
"The fact that the kids can form a healthy relationship with food is huge," she said. "I'm excited to start that dialogue with them."
What does she think about Oliver's "Food Revolution?"
"I love Jamie Oliver and Alice Waters—they're the pioneers." Palmer said. "I love the show—it gives a lot of exposure to this issue."
Food Revolution
Wellness in the Schools
Suzanne Boothby is a Brooklyn-based wellness author and writing coach who dabbles in social media and marketing. She is also the co-founder of NY Family Wellness. Visit www.suzanneboothby.com to learn more.