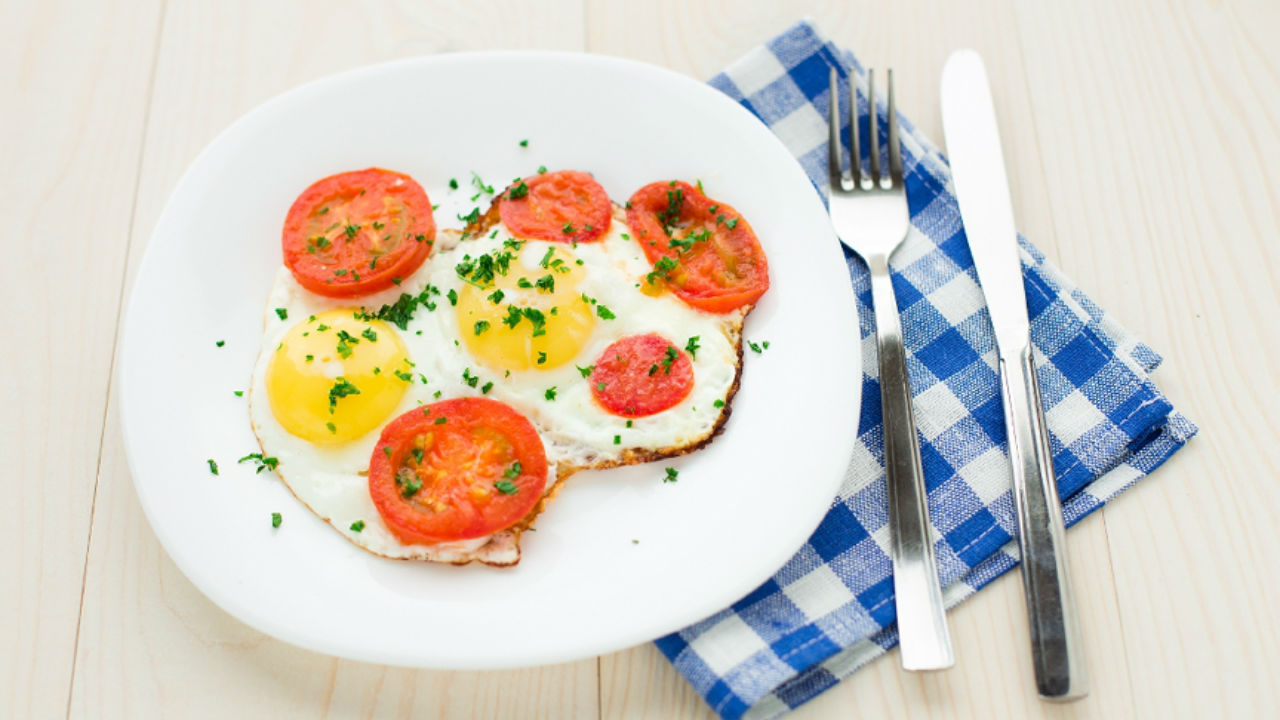 Photo: Getty Images
Breakfast. Mom was right; it really and truly is the most important meal of the day. If that really is true (and don't we all know it) why oh why do we neglect it? In addition to helping fight weight gain by curbing cravings, eating a healthy, balanced breakfast is critical to staying energized all day long, lowering cholesterol and improving concentration. Instead of starting your day on a belly full of nothing but coffee and/or a sugar-filled donut, take a few extra minutes and give breakfast the attention it deserves.
In order to stay healthy and lose weight, studies show you should aim to eat a breakfast that's around 400 calories. Here's a peek at a few energizing, easy, and delicious breakfast options:
1. Peanut Butter, Berries and Bananas: Spread each half of a toasted whole wheat English muffin with 1 tablespoon of peanut butter or almond butter. Then top each side with sliced bananas (about 1/4-cup on each) and eat with a side of 20 or so blueberries.


2. Omelet on Toast: Mix with 1 egg and 2 egg whites and pour it onto a warm skillet coated with cooking spray. Once cooked, flip and fill with spinach, tomatoes and a sprinkle of shredded mozzarella cheese. Pair it with a slice or two of whole wheat toast.
3. Breakfast on the Run, Dunkin' Donuts Style: If you're short on time to cook omelets and toast English muffins, head to order a meat-free Dunkin' Donuts® Egg & Cheese English Muffin Sandwich and a small iced latte with fat-free milk and Splenda. The meal contains just 401 calories.
4. Waffles n' Berries: Toast two whole grain frozen waffles. Top with 1/2-cup blueberries, fat free yogurt and a sprinkle of sliced almonds. (If you're in the mood for a little splurge, there's room in this recipe for a dash of honey or all-natural maple syrup.)
5. Breakfast Burrito: Pour a beaten egg into a hot, sprayed skillet. Spread 1 tablespoon of refried or black beans on a whole wheat tortilla and heat in the microwave or toaster oven. Add cooked egg to the tortilla and top with salsa, reduced fat shredded cheese and a dollop of fat-free sour cream.
6. Bagel Sando: Toast half of a full or an entire small whole wheat bagel. Top with 1 tablespoon low-fat cream cheese and 2 ounces of lean ham or turkey. For a jolt of fiber, add fresh spinach leaves and a few slices of tomato on top.