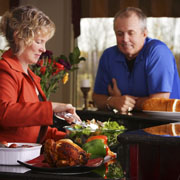 Design Pics/PhotoSpin
Thanksgiving is right around the corner, meaning a day of out of control eating for most.
Merry as it might make us (and sleepy after the turkey), our happiness will fade once our clothes fit a bit snug.
To prevent this from happening, eat smart this Thanksgiving.
The Washington Post published a Thanksgiving calorie counter online, allowing people to see the amount of calories in certain foods.
According to this tool, a single serving of roasted turkey with gravy can have as many as 400 calories, and a slice of pecan pie has 500 calories.
Just those two foods alone make up almost half of the daily-suggested calorie intake for a woman.
That doesn't mean you need to deprive yourself of all your favorite things though.
The Mayo Clinic created a healthy menu for the holiday: complete with turkey, stuffing, and pumpkin favorites.
Wild rice stuffing anyone? What about cranberry-apple tart?
The key to not gaining weight during the season of weight gain is to eat in moderation.
Adding a variety of vegetables and fruits to the table is an easy method to eat better.
Martha Rose Shulman, from the New York Times, published a long list of great recipes, too.
In one of her articles, she writes, "I always serve a salad, and some of my favorites include endive, apple and walnut salad, curried Waldorf salad, and spinach salad with seared shiitake mushrooms. If you like mashed potatoes, try this version with kale for a change. I like a plain green vegetable with the meal, too: steamed or blanched green beans, or broccoli with no embellishment."
This Thanksgiving, you can eat your favorite foods and stay skinny, too.
All you need is self-control (and maybe a good exercise session before dinner) and you won't have the post-holiday regrets.
Sources:
Berkowitz, Bonnie. "Holiday Calorie Counter." The Washington Post. The Washington Post, 20 Nov. 2010. Web. 19 Nov. 2012.
http://www.washingtonpost.com/wp-srv/special/health/holiday-calorie-counter
Shulman, Martha Rose. "Recipes for Health: Healthy Thanksgiving Favorites." The New York Times. The New York Times Company, n.d. Web. 19 Nov. 2012. http://topics.nytimes.com/top/news/health/series/recipes_for_health/heal...
Staff, Mayo Clinic. "Thanksgiving Recipes: Delicious and Healthy Options." Mayo Clinic. Mayo Foundation for Medical Education and Research, 29 Oct. 2011. Web. 19 Nov. 2012.
http://www.mayoclinic.com/health/thanksgiving-recipes/NU00643
Reviewed November 19, 2012
by Michele Blacksberg RN
Edited by Jody Smith