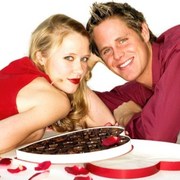 Photo: Getty Images
With Valentine's Day (and Easter) quickly approaching, the sale of chocolate is sure to skyrocket. Frazzled husbands and boyfriends are going to be found stripping the shelves of all the heart shaped boxes at drug and mass market stores across the country.
But, when the ladies in the their lives get these sweet confections, do they really need to feel so bad about eating them? They were bought with love after all. So with that in mind, here are three reasons why eating (a little) chocolate is not all bad.
1. Chocolate may help one take in less calories.
Some preliminary studies have suggested that natural cocoa could help prevent some fats and starchy foods from being absorbed by reducing the action of some digestive enzymes in the body.
This could actually limit the amount of calories that one would take in during the digestion process. More studies need to be done but so far the results are promising.
2. Chocolate can lower one's chances for heart disease.
A 2011 study reported in the British Medical Journal found there was a significant reduction in heart disease (37 percent) and stroke (29 percent) when the study participants regularly consumed chocolate.
The study found no difference in milk or dark chocolate and did not account for the amount of chocolate consumed. The study author, Dr. Oscar Franco, a professor of public health at the University of Cambridge, unabashedly tells people to eat chocolate. "You should eat chocolate in a moderate way and in a regular manner," CBSNews quotes him as saying.
3. Chocolate could help one see better.
Some studies have found that participants who ate dark chocolate (as opposed to white chocolate) took less time to detect the direction of moving dots and were better able to distinguish items on a similarly-colored background.
Both these skills are especially useful and necessary for night driving. Researchers think the flavonoids, the antioxidants, in dark chocolate are the cause for this improvement in vision.
No matter the reason for eating chocolate, most people will agree that everything in moderation is acceptable. So save the guilt for last Friday's pizza or the skipped workout that just didn't happen this week, and savor the small bursts of happiness chocolate can bring in one's life.
Enjoy!
Sources:
CBSNews.com. Web. Published 29 August 2011. "Chocolate tied to big drop in heart disease risk".
http://www.cbsnews.com/8301-504763_162-20098679-10391704.html
HuffingtonPost.com. Web. 12 February 2012. "4 Health Reasons to Eat Chocolate (and Cons to Consider)".
http://www.huffingtonpost.com/eatingwell/chocolate-health_b_1262780.html#s684724&title=Pro_Its_HeartHealthy
Reviewed February 14, 2012
by Michele Blacksberg RN
Edited by Jody Smith