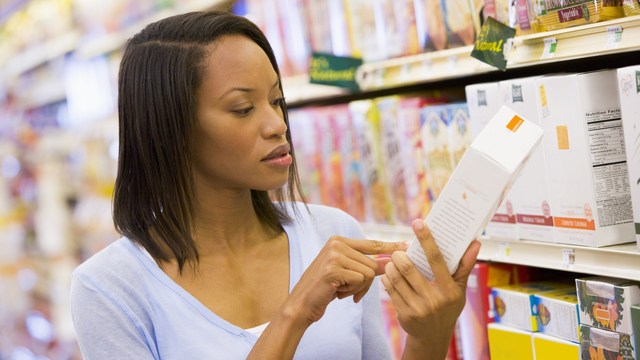 MonkeyBusiness Images/PhotoSpin
In a perfect world we would all eat more whole foods, but until then, knowing more about what we're tossing in the grocery cart is important. Like the saying goes, "you are what you eat."
Since it's a less than ideal world, let's be honest -- reading food package labels can sometimes feel like a fool's errand, even for the most empowered shoppers among us.
(How many cookies, chips or crackers have you munched before you realize the actual serving size is way less than the amount already ingested?)
Deciphering the contents of foods most Americans buy may soon get a lot easier with new Nutrition Facts labels coming soon to a grocery store near you. The U.S. Food and Drug Administration proposed the changes on Feb. 27, 2014.
It could be a small victory for nutrition-conscious label readers if the changes are adopted.
Imagine living in a world where there's no more guesstimating how much a serving size actually is, or how much processed sugar or salt has been added to your food. And we'd be able to put away our calculator because gauging calorie consumption will get easier too.
"The goal is to make people aware of what they are eating and give them the tools to make healthy dietary choices throughout the day," says Jennifer Leighton Ph.D., senior nutrition science and policy advisor in FDA's Office of Foods and Veterinary Medicine.
The changes are needed to "freshen up" the 20-year-old nutritional labels so they reflect new public health and scientific information, including the undeniable link between our diets and chronic diseases such as obesity and heart disease, and some cancers, the FDA said.
Should the proposed changes go into effect, all packaged foods except those regulated by the U.S. Department of Agriculture's Food Safety and Inspection Service (certain meat, poultry and processed egg products) would be updated in 2016.
"The new label would update out-of-date serving size requirements to better align with how much people really eat," the FDA said, making it more difficult for food manufacturers to fool consumers about the number of calories they consume.
In some cases, consumers would better understand the calorie information for the entire package rather breaking it up into strange, difficult to calculate, or rather unrealistic serving sizes.
For example, your 20-ounce soda will be listed on the label as one serving instead of two, since most people drink the entire bottle at once rather than splitting it between people or saving half for another time.
Perhaps most notably, the new label is big, bold and beautiful to highlight key parts such as calories and serving sizes.
Proposed changes to food labels include:
• Requiring information about "added sugars" within the products consumers purchase. This proposed change is based on expert recommendations — including those from the 2010 Dietary Guidelines for Americans — that Americans should reduce their intake of calories from added sugar.
• Updating reference amounts, which are used by manufacturers to determine serving sizes, so they reflect the realistic amounts people currently eat and drink. Current data show that the consumption of certain food products has changed over the last 20 years.
• Presenting calorie and nutrition information for the whole package, in addition to per serving, on certain products that contain more than one serving size but that could be consumed in one sitting or in multiple sittings.
• Requiring the declaration of potassium and vitamin D on the label, if present, because some segments of the U.S. population are not consuming adequate amounts of these substances, putting them at higher risk for chronic disease.
Vitamin D is important for its role in bone health and potassium is beneficial in lowering blood pressure. Calcium and iron would continue to be required on the label if present, but listing vitamins A and C would now be voluntary.
• Revising the daily values for a variety of nutrients such as calcium, dietary fiber and vitamin D. Daily values are levels of nutrients in a standard serving in relation to the consumer's estimated need for it.
They are used to calculate the Percent Daily Value on the label to help consumers understand the food's nutritional information in the context of a total daily diet. These elements are important in addressing current public health problems like obesity and heart disease, the FDA said.
The FDA also is proposing some corresponding updates to the Supplement Facts label on dietary supplements, including proposed changes to the Daily Values and the units of measure.
The proposed updates reflect new dietary recommendations, consensus reports and national survey data, such as the 2010 Dietary Guidelines for Americans, nutrient intake recommendations from the Institute of Medicine, and intake data from the National Health and Nutrition Examination Survey.
The federal food regulatory agency is also considering extensive input and comments from a wide range of stakeholders. Consumers are invited to participate in the 90-day comment period at www.regulations.gov/
To see the new labels or learn more about the proposed changes, click here.
Lynette Summerill is an award-winning writer and watersports junkie who lives in San Diego with her husband and two beach loving dogs. In addition to writing about cancer-related issues for EmpowHER, her work has been seen in publications internationally.
Sources:
Proposed Nutritional Label Changes Are Based on Science and Research. FDA Consumer Update. 27 February 2014.
http://www.fda.gov/ForConsumers/ConsumerUpdates/ucm387164.htm
Nutritional Facts Label: Proposed Changes Aimer to Better Inform Food Choices. FDA Consumer Update. 27 February 2014.
http://www.fda.gov/ForConsumers/ConsumerUpdates/ucm387114.htm
Reviewed March 4, 2014
by Michele Blacksberg RN
Edited by Jody Smith