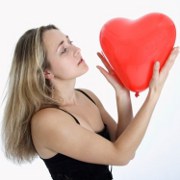 Photo: Getty Images
In medical science there is often a debate as to whether the placebo effect can have therapeutic benefits effects on a patient. According to the Merriam-Webster Dictionary, "placebo" is defined as a usually pharmacologically inert preparation prescribed more for the mental relief of the patient than for its actual effect on a disorder.
From the definition you can see that core of the debate comes from whether the patient only feels better when they are told the medicine, which is really a placebo, will make them feel better or whether the body actually responds and heals whatever imbalance or disease the patient is experiencing.
Recently there was a study whose purpose was to see if there were physical changes that would occur in the body when a patient was told they'd been given medicine, but instead, a placebo was given.
In this small study that was published in the American Heart Journal, the purpose of the study was to see if there were physical changes in the coronary arteries when patients were given verbal suggestions that the placebo solution would relieve their pain.
The placebo solution was a salt and water solution that is the same consistently of blood, so it was safe and harmless for the patients that were given the placebo. This study was conducted in Germany at Technical University Munich with 30 patients.
Researchers found that patients who where told they were being given a pain-relieving infusion actually felt a decrease in the amount of pain they were experiencing. Not only did the patients report less pain but the researchers found that the patients had slight physical changes in the blood vessels as a result of being told they were being given a pain reliever.
This study was published along with other studies that are showing a trend that placebo treatments can have some positive effects for some patients.
The study caught my attention because when I see placebo effect, I think about the mind-body skills like the power of suggestion and how it helps to boost the immune system. Since heart disease is the Number One cause of death for people around the world, it is always of interest to find that non-invasive mind-body treatments like verbal suggestion can have beneficial effects for patients.
Sources:
Norton, Amy. " Power of suggestion affects heart arteries| Reuters." Business & Financial News, Breaking US & International News | Reuters.com. N.p., n.d. Web. 23 Sept. 2011.
http://www.reuters.com/article/2011/09/16/us-power-suggestion-idUSTRE78F50X20110916
"Placebo - Definition and More from the Free Merriam-Webster Dictionary." Dictionary and Thesaurus - Merriam-Webster Online. N.p., n.d. Web. 23 Sept. 2011.
http://www.merriam-webster.com/dictionary/placebo.
Ronel, Joram, et al. "Effects of verbal suggestion on coronary arteries: Results of a randomized controlled experimental investigation during coronary angiography." American Heart Journal 162.3 (2011): 507-511. Print.
abtract: http://www.ahjonline.com/article/S0002-8703(11)00486-8/abstract
Live Vibrantly,
Dr. Dae's website: www.healthydaes.com
Dr. Dae's book: Daelicious! Recipes for Vibrant Living can be purchased @ www.healthydaes.com
Dr. Dae's Bio:
"Dr. Dae" (pronounced Dr. Day) Daemon Jones is a Naturopathic Physician who treats the whole person using safe and effective combinations of traditional and natural methods to produce optimal health and well-being in the lives of her patients.
Reviewed September 23, 2011
by Michele Blacksberg RN
Edited by Jody Smith