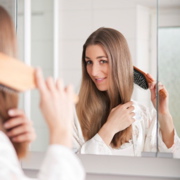 Photo: Getty Images
Imagine standing in front of the mirror in the morning and not only seeing your reflection but a run-down of your vital statistics too. Thanks to new technology, monitoring your health using this method could soon be a reality.
Massachusetts Institute of Technology (MIT) grad student Ming-Zher Poh, a PhD candidate at the Harvard-MIT Division of Health Sciences, has devised a pulse-monitoring system that can either be embedded into a mirror or used via a simple a web-based camera, such as on a laptop.
Currently the device can detect and monitor a pulse via a two-way mirror, in which a camera is placed behind the mirror, displaying in real-time the results at the base of the mirror.
The system works by using software that tracks the position of the face. The digital image is then broken down into red, green and blue portions. The device then monitors the small variations caused by blood flow through the vessels just under the skin.
They tested the accuracy of this method by comparing it to commercially available blood-volume pulse systems.
In order to compensate for the movement of a person's face and different lighting, Poh adapted signal processing technology used to identify a single voice out of a crowded room by deleting the "noise", known as Independent Component Analysis.
The data can then be transferred to the internet or shared with a person's health care provider to continuously monitor a patient's health.
"When you start to keep track of these health indicators over a longer duration of time, such as days or weeks, you can learn about patterns and trends in the data and spot any deviations," explained Poh, regarding the benefits of remotely monitoring a person's vitals.
The camera was able to detect and monitor pulses from three people standing by the mirror at once.
When tested, the MIT device accurately measured pulses within three beats per minute.
Poh and his team are currently working on expanding the system of measure blood oxygen levels and respiration.
The project won third place and a $50,000 prize in the second Annual Primary Healthcare Competition run by the Center for Integration of Medicine and Innovative Technology (CIMIT). The competition was started by a group of Boston area physicians together with mechanical engineering faculty at MIT.
Poh believes that this new technology will be useful when working with patients in which attaching sensors would be extremely difficult, such as burn victims and newborns. Monitoring their signs remotely would be vital to their comfort.
Source: http://web.mit.edu/press/2010/video-pluse.html