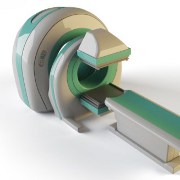 Photo: Getty Images
People who suffer from heart diseases and conditions, as well as those suspected of this, and who have received a recommendation for a heart X-ray, should ask for a Magnetic Resonance Imaging (MRI) over other scanning options.
This is the suggestion of researchers from the University of Leeds in the United Kingdom.
It would have a double impact on the assessment of coronary heart diseases' patients. It would mean not only preferring MRI scans over other non-invasive methods such as Computerised Tomography scans (CT scan) but also it would suggest MRI's superiority as an assaying tool over other invasive techniques such as angiogram, ballooning (stretch and stent) or SPECT, etc.
Suspected cases of coronary heart diseases are referred for further tests to assess type, location and extent of damage. Coronary heart diseases (CHD) refers to a condition where the coronary arteries of a person narrow down or clog completely due to deposition of fatty substances and cholesterol in the arterial walls. This blocks the flow of blood into the heart and causes heart attack.
While MRIs use radio waves, CT Scans and SPECT use ionising radiation to arrive at internal anatomical/structural imagery thus exposing both the patient and the radiologist to unnecessary radiation. Invasive tests such as angiography involve the injection of dye into the arteries of the heart to be able to get the correct imagery of the dye route. (1)
The study, which ran over a period of five years at the University of Leeds and involved the participation of over 750 CHD patients, concluded that MRI scans were a safe and reliable way to detect signs and the extent of CHD presence.
The technical findings of the research can be had in the December, 2011 issue of the medical journal The Lancet. (2) The results may now lead health care policy-makers to re-think guidance as to the tests that patients with suspected CHD should be offered.
As per Dr John Greenwood who led the study, "We have shown convincingly that of the options available to doctors in diagnosing coronary heart disease, MRI is better than the more commonly-used SPECT imaging test. As well as being more accurate, it has the advantage of not using any ionising radiation, sparing patients and health professionals from unnecessary exposure. The MRI technique could be used widely and not just in the UK." (3)
It is believed that each year approximately 785,000 Americans have a first heart attack and another 470,000 who have already had one or more heart attacks have another attack. All this totals up to $316.4 billion to the U.S. economy in terms of health care services, medications, and lost productivity. (4)
SOURCES:
1. MRI Scan 'Better' for Heart Patients; Science Daily News; January 2012; http://www.sciencedaily.com/releases/2011/12/111222195007.htm
2. Cardiovascular magnetic resonance and single-photon emission computed tomography for diagnosis of coronary heart disease (CE-MARC): a prospective trial; The Lancet; January 2012; http://www.thelancet.com/journals/lancet/article/PIIS0140-6736(11)61335-4/fulltext
3. MRI Scans Better For Suspected Heart Disease Patients; Medical News Today; January 2012; http://www.medicalnewstoday.com/articles/239737.php
4. Heart Disease and Stroke Statistics—2010 Update. A Report from the American Heart Association Statistics Committee and Stroke Statistics Subcommittee; January 2012; http://www.cdc.gov/heartdisease/facts.htm
INFORMATION IN THIS ARTICLE IS NOT MEDICAL ADVICE. ALL INFORMATION GIVEN IS TO BE CHECKED WITH YOUR DOCTOR BEFORE IMPLEMENTING OR TAKING THEM AS STANDARD OR VERIFIED.
Mamta Singh is a published author of the books Migraines for the Informed Woman – Tips From A Sufferer: ISBN: 978-81-291-1517-1 (Publisher: Rupa & Co. URL: http://www.amazon.com/Migraines-Informed-Woman-Tips-Sufferer/dp/8129115174/ref=sr_1_2?ie=UTF8&s=books&qid=1298990756&sr=1-2), Mentor Your Mind – Tested Mantras For The Busy Woman: ISBN: 978-81-207-5973-2 (Publisher: Sterling Publishers; URL: http://www.amazon.com/Mentor-Your-Mind-Tested-Mantras/dp/8120759737/ref=sr_1_1?ie=UTF8&qid=1316063179&sr=8-1) and the upcoming Women's Complete Fitness Guide (Publisher: Hay House India).
She is also a seasoned business, creative and academic writer. She is a certified fitness instructor, personal trainer & sports nutritionist through IFA, Florida USA. Mamta is an NCFE-certified Holistic Health Therapist SAC Dip U.K. She is the lead writer and holds Expert Author status in many well-received health, fitness and nutrition sites. She runs her own popular blogs on migraines in women and holistic health.
Mamta holds a double Master's Degree in Commerce and Business. She is a registered practitioner with the UN recognised Art of Living Foundation. Please visit www.mamtasingh.com
Reviewed February 16, 2012
by Michele Blacksberg RN
Edited by Jody Smith
Tags: