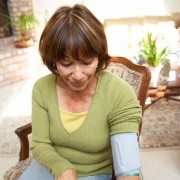 Photo: Getty Images
Taking your blood pressure can now be as easy as picking up your phone. Withings, the company that brought us the WiFi body scale, has just launched the world's first iPhone blood pressure monitor, allowing easy access to measurements on the go. Compatible with the iPhone, iPad, and the iPod touch, the newest in health gadgets will be available to purchase any day now and will retail at $129.00. The app is free and available at the Apple store.
More and more people are turning to connected methods of monitoring their health and embracing the ability to share this information with health care providers. It is becoming common practice for us to use smartphones to help us conduct our daily lives and find health resources.
According to the American Heart Association 74 million Americans aged 20 years and older suffer from high blood pressure and in 2006 hypertension was blamed for the deaths of 56,561 people.
Self-measuring your own blood pressure is recommended by health care professionals for people with high blood pressure. Regular devices to measure blood pressure accurately are bulky and not easy to transport. The Withings' iPhone device is not only accurate but is small enough to carry with you everywhere (the device and carry-case measures just 10cm by 14cm).
This compact device is easy to use and once the phone connects to the device is instantly recognized and ready-to-use. You simply hook up the phone, put the cuff around your arm and wait for the results to be displayed on screen. There is an automatic inflation and release valve. The data is then automatically saved and the results sent to your own (password-protected) personal page on the Withings website.
The device can measure blood pressure from 40 to 230 mmHG and a pulse rate from 30 to 200 beats per minute.
The easy-to-read data traces trends in your blood pressure that visually charts the results so any changes can be easily recognized.
The device also allows other companies to offer complimentary services, such as Google Health, Microsoft Health Vault and website such as DailyBurn.com, RunKeeper.com, FitOrbit.com, to name just a few.
"Apple revolutionized the world of smartphones by making them user-friendly like never before. By adding connectivity to high-tech devices, we simplify their usage and enrich them with extra services. Our goal is to take the drama out of using devices that can promote healthier lifestyles for all," explained Withings co-founder Cédric Hutchings.
Source: http://www.withings.com/en/bloodpressuremonitor