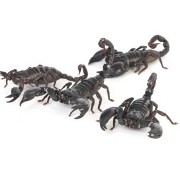 Photo: Getty Images
Scorpions are definitely my least favorite of all the creepy-crawly-make-me-shudder family of pests. A relative of the spider, scorpions are arthorpods (member of the arachnida class). Venomous, scorpions deliver a sting which is not only painful, but in some cases can even cause death. (I happen to be allergic and fall into the latter category, another reasons for disliking the creatures.) For those of you who live in a region populated by the pests, you know first hand how they can live anywhere and turn up at the most unexpected times and places (your bed, your shoes, the shower, your clothes), just lurking around for some unsuspecting person to come into close enough contact to inflict their damage.
Now, if you're like me, you may be wondering just what these vicious little creatures are good for - and what they have to do with heart health. As it turns out, the very venom that is so painful, and potentially dangerous to some, just may be able to reduce the number of graft failures in heart bypass surgery.
A heart bypass is a fairly common surgery in which a vein is grafted on to the heart. As with any invasive procedure, the body's natural injury response kicks in and the body works to grow new cells. In blood vessels, this natural response is referred to as neointimal hyperplasia and it's the most common reason for graft failure. New cell growth can be helpful if the growth occurs on the outside of the cells. But, when new cell growth turns inward, cell growth on the inside of the vein causes blood flow to be limited and slow and ultimately may result in failure of the graft.
Researchers at the University of Leeds have been looking for ways to suppress neointimal hyperplasia, as a result, decrease the number of graft failures and save lives. As a part of the study, researchers found hope in the venom of the Central American bark scorpion (Centruroides margaritatus). Margatoxin is one of several toxins present in the venom of the bark scorpion. Researchers found that just a few molecules of margotoxin were more effective in preventing neointimal hyperplasia than any other currently used treatment protocol. Margotoxin is believed to operate by suppressing the function of Kv1.3 potassium ion (Kv1.3 is linked to chronic inflammation and the immune system).
As a part of the study, researchers tested numerous different compounds and their effect on neointimal hyperplasia. The scorpion venom was the clear winner in terms of effectiveness (100 times more effective in preventing neointimal hyperplasia). The challenge facing researchers now is how to administer the "cure." Since margotoxin is a toxin, it doesn't lend itself well to some traditional ways to administer treatments such as pills or injections. Researchers speculate that one approach may be to spray the toxin directly onto the vein before it's actually grafted on to the heart.
More research will be required to assess long-term safety before margotoxin can be used as a mainstream treatment option. Researchers will also need to determine the best delivery method to gain the most benefit to patients. In the meantime, who would have thought that something good could come from a scorpion sting?
Source:
Scorpion Has Welcome Sting For Heart Bypass Patients, Medical News Today, 23 Oct 2010, http://www.medicalnewstoday.com/articles/205604.php
Jane Fazackarley, Scorpion venom could help heart graft patients, Digital Journal, 22 Oct 2010, http://www.digitaljournal.com/article/299276
Dawn H. Gouge, Kirk A. Smith, Carl Olson, and Paul Baker, Scorpions, Cooperative Extension, College of Agriculture & Life Sciences, The University of Arizona,
http://cals.arizona.edu/pubs/insects/az1223/