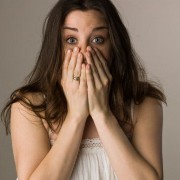 Photo: Getty Images
I was eating in a hurry to get back to work on time. In my haste I bit my tongue really badly. I didn't care at that point. But after an hour while attending to a patient something felt funny as I asked questions. My tongue was not moving as it should. It felt heavy like I just ate a whole bunch of ice, and my tongue was so numb it stayed put. Something told me to go into the bathroom right away and check what was going on inside my mouth. I excused myself for a few moments and ran into the bathroom. I was shocked and stunned with what I saw in the mirror. My whole tongue was black and blue. It was swollen like a balloon, making it difficult for me to move it. I was frightened at what I saw. At first I thought it was in something that I ate that was giving me food poisoning. This happened eight months after I had my first angioplasty and stent. I called my regular doctor's office, but they couldn't give me an appointment and they told me they suspected it had something to do with a post procedural complication. I then called my cardiologist's office and was told to stop taking Plavix immediately and keep eating ice until the swelling went down.
Plavix is a medication given to patients after many heart procedures. It is a blood thinner and keeps the platelets from sticking to the arterial walls, thus preventing blood clots and heart attacks. Post procedural complications for patients who go through angioplasty and stent placements include clot formation that could lead to blockage in the vessels causing heart attacks, strokes and angina. Besides medicated stents that release the beta blockers, Plavix is given for eight to 10 months. For some people who have tendency to have clots within days Plavix is recommended and prescribed lifelong. Plavix is also known as Clopidogrel and is also called anti-platelet medication.
Plavix is not only used for coronary artery stent placement procedures but also for people who have problems with blood clots or mitral valve disease and other heart conditions. It keeps blood from coagulating.
Contraindications when using Plavix include:
a. Internal bleeding
b. Excessive bleeding if there are any injuries or cuts
c. Hemophilia
d. Aggravation of stomach ulcers
Precautions to take when using Plavix:
a. Do not take aspirin unless otherwise prescribed by the physician
b. Do not take Plavix if there is any internal bleeding
c. Let the physician know if you have any history of stroke, ulcers, or kidney disease
d. Do not take any anti-inflammatory medications such as Ibuprofen, Motrin or Advil
e. Avoid drinking alcohol
f. If you are having any surgery or dental work, let the doctor know before hand about Plavix
Take Plavix at the same time every day. If you miss a dose try to take it as soon you can but if it is closer to your next dose just take that dose.
Side effects of take Plavix include:
a. nose bleed
b. bloody stools or in urine
c. coughing up blood
d. chest pain or difficulty breathing
e. numbness or weakness on one side of the body
f. pale skin
g. bruising
h. itching
If any of the above symptoms occur, call your doctor immediately or go to the emergency room. As with any other medications one needs to be cautious about taking over the counter medications, vitamins, minerals and herbal medicines while taking Plavix. I take Plavix with care and watch out for any signs of bleeding and try not to get cuts or bruises. Keeping ourselves informed and asking questions is always a good way of keeping things under our control because, OUR LIFE MATTERS.
Tags: