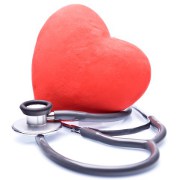 Photo: Getty Images
It's generally accepted that an aspirin a day is beneficial to your heart health. Aspirin is a common over-the-counter medication which is used to treat mild or moderate pain, and reduce fever and inflammation. Aspirin also inhibits your body's natural ability to form blood clots. In some circumstances – such as when minor cuts occur – clotting is beneficial. For those with heart disease such as atherosclerosis, blood clots that occur in the arteries can be devastating and may lead to stroke, heart attack, and in some cases, death. For some, aspirin may be a "must have" pain reliever for the medicine cabinet. (Mayo 1.)
But what about other pain relievers and anti-inflammatory drugs? How do they stack up when it comes to heart health? According to one nine-year Danish study, not all such drugs are created equal when it comes to your heart health. The study, led by Anne-Marie Schjerning Olsen, research fellow at Copenhagen University in Hellerup, Denmark, examined patient records of 83,697 heart attack survivors. Thirty-seven percent of the patients were women and 63 percent were male. (Bioscholar 1.)
Researchers specifically looked at the relationship between the use of NSAIDs – non-steroidal anti-inflammatory drugs – and increased risk of additional heart attack or death. In addition, researchers examined results by the specific brand of NSAID used. Ibuprofen was the most commonly used NSAID at 23 percent. Other NSAIDs used included diclofenac or Voltaren, COX-2 inhibitor rofecoxib and celecoxib. Other common NSAIDs include medications such as naproxen and Celebrex.
The study results were startling:
• One week usage of NSAIDs: 45 percent increased risk
• Three months usage of NSAIDs: 55 percent increased risk
• Increased risk of death or subsequent heart attack regardless of the type of NSAID used
• Patients using diclofenac exhibited an increased risk three times greater than those using other NSAIDs (Bioscholar 2.)
Limiting the usage of NSAIDs to low doses in heart patients is supported by the American Heart Association. These results suggest that even small dosages of NSAIDs for short amount of times may be detrimental to heart attack survivors.
Not everyone agrees with the findings. Despite the fact that the study revealed an increased risk three times greater risk in patients using diclofenac or Voltaren, its manufacturer – Novartis – continues to maintain that the drug is safe and effective if used as prescribed. Not surprisingly, other manufacturers, such as Pfizer, took similar positions with respect to the effectiveness and safety of their drugs. (CNN 1.)
Heart disease is a serious condition that should be monitored by medical professionals. If you have heart disease, or are at risk for heart attack or stroke, always check with your physician before beginning aspirin therapy or taking NSAIDs.
Sources:
Painkillers like ibuprofen may be risky for heart attack patients, 10 May 2011, BioScholar.com, http://news.bioscholar.com/2011/05/painkillers-like-ibuprofen-may-be-risky-for-heart-attack-patients.html
Leslie Wade, Some pain relievers dangerous to heart attack patients, CNN.com, 09 May 2011, http://thechart.blogs.cnn.com/2011/05/09/some-pain-relievers-dangerous-to-heart-attack-patients/
Daily aspiring therapy: Understand the benefits and risks, The Mayo Clinic, 17 Jun 2010, http://www.mayoclinic.com/health/daily-aspirin-therapy/HB00073
Mary Kyle is a freelance writer, editor, and project manager. She has a Master's degree in Legal Studies and is a certified Project Management Professional. She has two children's books to her credit and has authored or co-authored hundreds of articles. A songwriter and musician, she is a member of several bands and performs regularly.