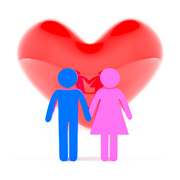 Photo: Getty Images
Coronary artery disease, also known as CAD or heart disease, is the leading cause of death in the United States. CAD, which prematurely takes the lives of men and women, is characterized by fatty deposits in the heart arteries and blood vessel walls. This excess build-up results in narrowed or blocked heart arteries, which may lead to heart attack and even death.
The build-up of plaque associated with CAD has long been recognized as a risk factor for the potential of a future heart attack or other cardiac event. According to researchers at the Medical University of South Carolina, women with plaque are at a much greater risk of heart attack or other cardiac events than their male counterparts.
Researchers found their conclusions after examining the CT angiography or CTA results from 480 cardiac patients. A CTA is a test that indicates whether or not there are blockages in the coronary arteries. It can also determine the composition of the plaques, whether or not plaques have calcified, how severe the blockage is and how many blood vessels are segmented with plaques.
Of the 480 patient records analyzed, 65 percent were women. The average patient was 55 years old and all suffered acute chest pain. Patients were followed for 12.8 months. During this time, researchers observed 70 patients who suffered a cardiac event defined as a "major adverse cardiac event."
These cardiac events included conditions such as heart attack, revascularization surgery to restore or augment blood supply, unstable angina and even death. An additional 17 patients also suffered cardiac events.
After comparing the long-term outcome against the initial CTA scans, researchers discovered that women with plaque were at a much greater risk then men for suffering a major adverse cardiac event. Men fared worse when artery segments contained non-calcified plaques.
Researchers believe that the CTA is an excellent tool that can be used to help determine whether or not a patient will suffer a major coronary event. Researchers also indicate that health professionals must consider gender in making a prognosis because coronary plaque in women appears to have a greater negative impact on the overall outcome than previously thought.
Complete study findings were presented to the Radiological Society of North America (RSNA) on November 30, 2011.
Sources:
Radiological Society of North America. (2011, December 1). "Gender Differences In Heart Attack Risk." Medical News Today. Retrieved from http://www.medicalnewstoday.com/releases/238452.php
Radiological Society of North America (2011, November 30). Heart attack risk differs between men and women. ScienceDaily. Retrieved December 1, 2011, from http://www.sciencedaily.com/releases/2011/11/111130095255.htm
Reviewed December 5, 2011
by Michele Blacksberg RN
Edited by Malu Banuelos