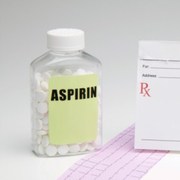 Creatas/Thinkstock
If you're at risk of heart attack or stroke, then chances are that at some point in time your physician may recommend daily aspirin therapy.
Because aspirin thins the blood and prevents blood clots from forming, daily aspirin therapy is generally recommended for those who've already suffered a first heart attack or stroke. It's also recommended for those who are at risk for clot-related stroke or heart attack.
Aspirin may also be prescribed for people who've had bypass surgery, suffer from angina, or those with diabetes. However, aspirin therapy may not be beneficial for everyone, particularly people with type 2 diabetes.
Currently, almost 11 million people in the United States over the age of 65 years of age suffer from type 2 diabetes. Heart disease and stroke are the leading cause of death for people in this demographic.
According to a study which examined the clotting resistance of type 2 diabetes patients, the majority of people with type 2 diabetes may be aspirin-resistant, leaving them unable to enjoy aspirin's protective anti-clotting benefits.
Led by lead author Subhashini Yaturu, M.D., section chief of the Endocrinology and Metabolism Department at Stratton VA Medical Center in Albany, NY, researchers found that 53 percent of study participants, all of whom were diagnosed with type 2 diabetes, were resistant to aspirin therapy.
Study findings were based on an examination of the presence of 11-dehydro-thromboxane beta-2, also known as 11DhTx2, in participants' urine. 11DhTx2 is a chemical which is produced as a part of the clotting process.
High levels of 11DhTx2 indicate aspirin resistance. Researchers also found that the longer a person had type 2 diabetes, the higher the levels of 11DhTx2.
Researchers believe that this new information will help physicians and patients make more informed decisions about how beneficial daily aspirin therapy will be and whether a different course of treatment is recommended.
The study is limited in that the participant pool was small, consisting of only 142 persons. In addition, all participants were men and the majority were Caucasian.
It's unknown at this time if gender or ethnicity might influence the outcome of the study results. Complete study results were presented at the Endocrine Society's 94th Annual Meeting in June, 2012, in Houston, Texas.
Sources:
The Endocrine Society (2012, June 25). Aspirin may not prevent blood clots that cause heart attacks and strokes among diabetics. ScienceDaily. Retrieved July 1, 2012, from
http://www.sciencedaily.com/releases/2012/06/120625092504.htm
Daily aspirin therapy: Understand the benefits and risks. The Mayo Clinic. 06 Apr 2012.
http://www.mayoclinic.com/health/daily-aspirin-therapy/HB00073
Reviewed July 2, 2012
by Michele Blacksberg RN
Edited by Jody Smith