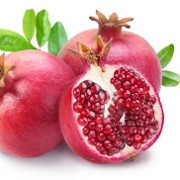 Photo: Getty Images
Pomegranate has been used in traditional and folk medicine for thousands of years. It grows as a tree that is native to Iran and has also been popular in Afghanistan, Russia, India, China, and Japan. Pomegranate trees are between 15 and 20 feet tall and bear apple-sized fruit that has a leathery skin or rind. The fruit inside the rind consists of spongy white material and clusters of tart, juicy sacs with seeds.
Why Pomegranate is used
Historically, pomegranate was used to treat tapeworms and other parasites. More recently it has been promoted as a potential "superfood" that can help cure or relieve symptoms of many conditions. These claims have not been verified by scientific studies.
Pomegranate is known to contain antioxidants that can help protect cells from damage. Some people believe this property means pomegranate can help cure cancer. This has not been proven. However, in laboratory tests (not in the human body) pomegranate extracts appear to slow down the growth of some types of cancer cells.
The antioxidants in pomegranate also lead some scientists to believe pomegranate can help prevent atherosclerosis, which is plaque that forms in blood vessels and contributes to heart disease. Other studies are also under way to see if pomegranate can reduce the inflammation caused by osteoarthritis.
Other proposed uses for pomegranate include treating high cholesterol, high blood pressure, gum disease, and obesity. None of these uses of pomegranate has been confirmed.
How Pomegranate is used
Folk medicine includes the use of the rind, bark, and root of the plant. However, these parts of the pomegranate plant contain ingredients that can be harmful. Currently, pomegranate juice is available as a liquid. Pomegranate extract is available as a pill, capsule, or powder.
Cautions for Pomegranate
Pomegranate juice is considered to be safe for most people as part of a healthy diet. Pomegranate extract may contain bits of the rind of the fruit, which may be harmful. Children and pregnant women should not take pomegranate extract. Other cautions for pomegranate include:
• ACE Inhibitors – Pomegranate juice may have some of the same properties as ACE inhibitors used to control high blood pressure. Taking pomegranate with these medications may make the effects of the drugs too strong.
• Blood Pressure – Pomegranate juice may help lower blood pressure. Taking pomegranate with medications for high blood pressure may cause blood pressure to be too low.
• Statins – These medications to lower cholesterol may interact with pomegranate juice.
Some researchers believe pomegranate juice, like grapefruit juice, may interact or interfere with a number of different medications. Tell your health care provider about all supplements you choose to take, including pomegranate.
Sources:
National Institutes of Health: Medline Plus
University of Maryland Medical Center
National Geographic